March 5, 2010
0

found this helpful
MY daughter also had this problem... (one fat cat & one picky-eater skinny cat)... What she did was buy a small R.F.I.D. pet door for around $65 - $99 for her bedroom. This pet-door will only let the cat in that has the correct RFID tag on it's collar. You put the food for the skinny cat into a different room, like a bedroom or a laundry room & only the skinny cat with the RFID tag can open the pet door to get the food!
They make many models of electronic pet doors including RFID, Magnetic, Microchip, etc but the RFID is the most lightweight & you don't need a microchip inside your pets skin. I have done hours of research & like the "Cat Mate Elite Series" best:
www.petdoors.com/cat-mate-elite-series-electronic...
Here's a site that sells all types:
www.petdoors.com/electronic_pet_doors.htm
* Note:
These pet-doors are sold to keep other animals out of the house, but we turned our cat-door around to keep our kitten inside while letting our big cat go outside. This voids the warrantee (turning the door around) but we don't care. We put ours on an inside door that goes out to a covered porch. They install just like any regular pet door. We used a jigsaw & a screwdriver in our metal door & it took about 45 minutes (because we didn't know what we were doing!)
You can buy unsalted chicken broth (or make your own) & add this to the dry pet food. Be sure the broth is not salted or it can damage your cat's kidneys!
You can also add Salmon Oil to the picky cat's food. Most cats love salmon oil & it adds good calories too!
There is a dried cat food on the market that all cats love! It's not cheap, but it has an amazing 50% protein content & no grains! It is made with herring & salmon... I split a bag with my daughter to use for treats... My cat's go crazy for it & her picky cat does too!
It's called: EVO Herring & Salmon Formula Dry Cat & kitten Food.
* Don't confuse this with their Herring-Salmon treats.
Here's more information:
www.westcoastpetsupply.com/.../
www.evopet.com/.../default.asp?id=1704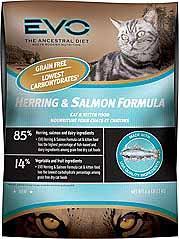 March 9, 2010
0

found this helpful
Don't worry about the cats. Keep food available to them 24/7. Animals have a very strong instinct for survival and they will not allow themselves to starve. If one starts losing a lot of weight, then it's time for a trip to the vet to find out why. Otherwise don't worry.
The cat I have now is so finicky he won't even touch wet food! He will only eat dry.
I have 2 dogs who are the same way. One is fat and will eat anything, anytime. The other is not so fat and very picky. I used to worry about him constantly till I realized he was gaining weight. The last trip to the vet, she actually told me he was getting a little bit too heavy! So he's eating, just not when I am around to see.
March 15, 2010
0

found this helpful
I have a suggestion: I have a half Siamese cat and she is very picky. she will play with the dry food and dip it in the water, but she will not eat wet. I noticed that she was getting really skinny and the vet told me a small spoonful of regular tuna in water once every morning will not hurt her.
I started to do that and her coat now looks great and she has kept the weight on. I would try that.
March 16, 2010
0

found this helpful
Thanks very much Mnmtwin, I will try that he will lick some of the gravy in cat food but wont eat the meat. I have found he like the dairy treats, so I do give him more of them.