Pat Giles
Gold Feedback Medal for All Time! 791 Feedbacks
May 2, 2008
0

found this helpful
Well, I wouldn't want him to be any other way, either! He is perfect just like he is - being a handsome clown!
Give him a big hug and kiss for me. Thanks for sharing Ludwig with us and God bless you.

May 2, 2008
0

found this helpful
When I was growing up we had boxers and now 3 of my married siblings have their own boxers. They are the greatest - and such natural clowns!!!!! Give him kisses, belly rubs and ear rubs for me!!!!!!! :-)

May 2, 2008
0

found this helpful
What a clown Ludwig is... he is so cute. We just added a boxer to our home this year, and he has more toys than my 11 year old so I think..lol They do love their toys and are the greatest dogs around children...God Bless you all.
By Iris Radford (Guest Post)
May 2, 2008
0

found this helpful
What a beautiful dog. Mind you, I'm prejudiced as we had a boxer too. They really never grow up! Our dog (Brutus - very dark brindle markings) was 13 when he went to the great dog heaven and he was still as silly as when we first got him.
I enclose a picture of him watching TV!
I'm in Nottinghamshire in England BTW.
Iris:)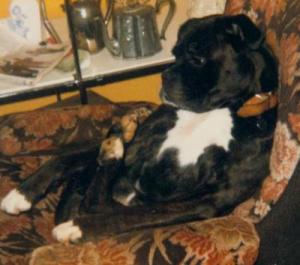 May 5, 2008
0

found this helpful
I just love boxers. I fell in love with them when my daughter brought her puppy home. She now has two. They are great dogs. Very smart and the best personality's. Enjoy every minute with your's. As you can see "Bo" gets along very well with our other dogs. Expect to see the puppy personality always. :D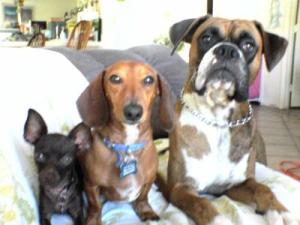 June 13, 2008
0

found this helpful
How adorable. What a great little guy and
you just want to give him a kiss.

June 27, 2009
0

found this helpful
He is just precious! I love Boxers. They really never do grow up. They are clowns to the end LOL. I have had boxers for about 20 years now. After the first one I fell in love with the breed.
My whole family has boxers. So much personality & so good with children. Enjoy him! I am including a picture of Rocky, my boxer. He brings so much joy to my life!