April 22, 2010
2

found this helpful
Top Comment
To clean litter boxes I took a hint from the Cleaning ladies from BBC. I cover the bottom with baking soda, and when I change it I pour vinegar in the bottom. This foams up the pan, and cleans and deodorizes. I pour out the 'sluge' and recoat with baking soda, put in litter, and replace.

Sherri
Bronze Feedback Medal for All Time! 180 Feedbacks
February 6, 2012
1

found this helpful
Top Comment
Hello,
I like your concept but using cedar or pine shaving in or around cats or gerbils can cause an upper respiratory infection, also known as an URI. I have worked for a Veterinarian for over 27 years and our Doctor's always recommended a product called "Care Fresh", it is a natural product made of recycled newspaper.
Take care

May 16, 2008
1

found this helpful
Thansk for the idea of using a large tote. We've been having such a problem with our male cat spraying over the side. We did wise up and put a large tote lid underneath so I could just dump the liquid into our utility sink and do a quick wipe but this is becoming a daily thing. So I think I will try the large tote and put it near his current litter box and see if he starts using it. Great idea!

May 16, 2008
1

found this helpful
I have 16 cats and use the plastic underbed boxes. They are big and roomy but I would like the sides to be higher. I will definitely give the larger bins a try. I have never seen cedar shavings in walmart. Where are they located and how big are the bags.
I get 40 lbs of scooping litter for 7.99 and it lasts for awhile but I have to use baking soda which I get at Sams Club to keep the smell under control. I will definitely look into the cedar shavings and the high sided bin.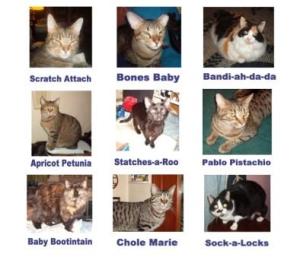 November 30, 2008
0

found this helpful
FOr odor control, I switched to a cheaper litter and use an activated carbon odor absorber called INNOFRESH pet odor absorber. It is unscented and really does an outstanding job on my two litter boxes.
I'm sure would be great for you too. Another shelter actually recommended it to me.
You can easily just get them on line at www.innofresh.com

December 1, 2008
1

found this helpful
I have been experimenting with a variety of eco-friendly cat litters and by far my favorite is "World's Best Cat Litter" for its pleasant smell, clumpability, and natural ingredients (corn). "Swheat Scoop" didn't clump that well and the ammonia smell was really strong when I'd go to scoop out the frequently-falling-apart clumps. It's not very absorbent either (I wonder if they need to make the granules finer for more surface area...); unless I had about six inches of it in the pan the urine would find its way to the bottom and create a caked on mess.
"Healthy Pet P-Pod Clumping Cat Litter" clumps better than "Swheat Scoop" (not as well as "World's Best") but it's very dusty; it gets tracked all over by the cats and when I'm cleaning it I have to cover my mouth and nose. The cats (three of them) don't like this litter either. We have two boxes and (we're at the tail-end of experimenting) their preference is for the one with "World's Best" in it.

April 23, 2010
1

found this helpful
If you mixed cedar shavings about half & half with clumping litter, would the boxes still need to be cleaned fully out so often? Has anyone tried this?

Cricket
Bronze Post Medal for All Time! 205 Posts
November 17, 2010
1

found this helpful
Cedar shavings are a very bad idea to use in cat boxes for more than one reason.
First, if you use a lidded box, the smell is too strong in there and can be dangerous for the cat. The cat may even refuse to go in after a while because the cedar smell is so strong.
Also, it does not clump at all, which means completely cleaning out the box every other day or so. 3-4 days is just too long. The urine, feces and cedar smells combine to really make an awful smell, and a strong awful smell too!
For my cat, the best and least expensive method is a lidded cat box with a good brand of clumping litter and a small rug under the box. The brand is a personal preference so I won't list one here. I scoop it out once daily adding more if necessary, and completely clean it out twice a month. To clean it I wash it thoroughly with hot dishwater and bleach, then blow dry it to get it completely dry. The dryer gets all the nooks and crannies that the towel can't get into. When I'm done scooping and/or cleaning the box I use a small vacuum and vac around it.
I keep my litter box in the laundry room and don't have a problem at all with odors. Since I also have dogs, I keep the box on a small table big enough so there is about 10 inches or so in front of the cat box for the cat to walk on before getting into or out of the box. The table has a shelf underneath and this is where I keep the vacuum (hand held) and scoop. I keep a large bin next to the table which holds the new litter, with a scoop inside that I made from trimming an empty bleach bottle, keeping the handle intact. I also keep a small 4 gallon trash bag with a roll of plastic bags in the bottom on top of this bin. I use the trash can for all laundry room trash, and also for scooping into when scooping the cat box. As soon as I'm done scooping, I tie it up and take it outside, Since I buy the bags (50 in a roll) at the dollar store, it only costs 2¢ a day to change the bag out every day.

January 13, 2011
0

found this helpful
I thought I'd pass along what works for me. I haven't seen it posted. I simply put the litterbox in a small swimming pool. Any litter that is thrown out, or sticks to kitty's feet simply ends up in the pool. It works for me. I hope this is helpful.

August 17, 2011
1

found this helpful
I use one box with clumping litter (Arm and Hammer Dual Duty) and one box with "Equine Pine" which is the same thing as Feline Pine only you get a 50 pound bag for the same price. It is compressed wood which puffs up and turns to powder when the cats urinate. That powder falls to the bottom of the box and you dump and change it when it is mostly powder. My cats (15) use the pine box for urine and the scoopable for defecation.