August 3, 2015
2

found this helpful
This is what has been happening and the cat food can is a great help in getting it removed in one whole piece. We have to go to town today, so we will be picking up more cat litter to add to what's in the box.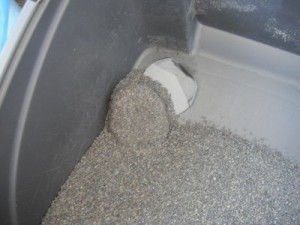 August 4, 2015
3

found this helpful
I use 1/4" hardware cloth place over a pail. I then slowly dump the litter into the pail. The wire catches the wet clumps and poop which gets dumped into another container. Whatever sticks to the bottom is loosened by lightly banging the pan on the edge of the tub.
I quite using cat litter and went with a product called Ultrasorb, 100% diatomaceous earth. It is coarser like clay cat litter but I much prefer it to clay or clumping.

August 6, 2015
0

found this helpful
Leaving the pull top on the lid works even better when handling it. I still put some duct tape around the top part so I won't cut myself on the sharp edge.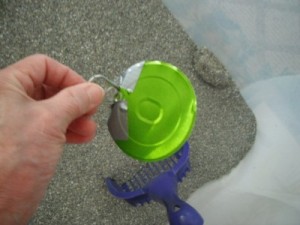 August 8, 2015
1

found this helpful
Good idea. After washing box, I spray with generic pam too.

August 8, 2015
1

found this helpful
I use litter box plastic liners! Have not found a trash bag that fits! So when time to change I just remove the liner and tie it up! This should work for you!!!

August 8, 2015
1

found this helpful
I use litter box liners . This should solve your problem plus when it is time to totally change the litter u just lift the plastic liner up and tie it abd dispose . No messy clean up! I wish I could find a trash bag that was the size needed.

August 8, 2015
1

found this helpful
I used to just add a layer of baking soda to the litter pan before I added litter; that took care of the bottom. I had a metal scoop for everything else.

August 9, 2015
3

found this helpful
Having only one cat makes my litter-issues easy to handle. I put a layer of folder newspaper in the bottom of my litter pan. Then, I add about a soup-can size amount of litter-that's all! After a cat-poop appears, I dump the whole thing in a garbage-bag lined, covered container, outside (on my balcony, since I live in a second floor apt.).
I then replace the newspaper and small amount of litter, so my cat always has a fresh litter box. About once every two weeks, I take the trash bag litter to the dumpster. A 20 lb bag of (cheap!) litter lasts about a month-or more. Occasionally, I give the litter pan a good "bath" and spray it with disinfectant.

August 10, 2015
1

found this helpful
Having no cats will solve my litter issue. Love my grandcats but will be glad to see them go home. I love to see them coming but seeing them leaving is even better. After two weeks, I've had enough loving to last me a while.

June 25, 2017
0

found this helpful
I use a "Litter Locker" disposal system. Easy and very affordable. I was reluctant to get a cat until I heard of Litter Locker".
The scoop comes with it and the plastic bag liner is very strong. It works like the diaper disposal units. Most of all there is no smell!