Poole is 5 1/2 years young. He followed me into my house. He is a cat, anything that serves his own pleasures will suffice.
By Leigh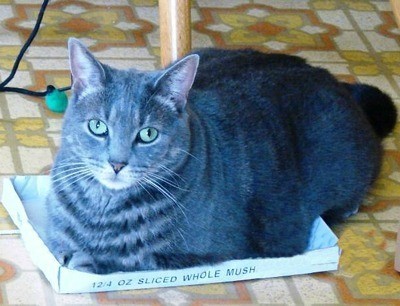 Add your voice! Click below to comment. ThriftyFun is powered by your wisdom!

MB Norton
Bronze Feedback Medal for All Time! 207 Feedbacks
February 23, 2011
0

found this helpful
I love this photo. You can see his personality beaming through! Thanks for sharing!

February 23, 2011
0

found this helpful
Hi everyone... I posted the wrong photo as you see above... this is the one I wanted to enter. The caption reads, 'Goldilocks TOLD me this box was too small, but did I listen?' I know it's too late to change it, but I wanted to set it straight. Thanks all!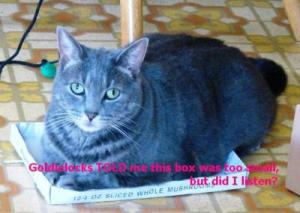 Julia
Bronze Post Medal for All Time! 146 Posts
February 24, 2011
0

found this helpful
It really doesn't take all that much to make our fur-babies happy. Just all our time, energy and attention, thank you very much. Poole is beautiful, and reminds me of our Sir Catty-Kit fitting his big self into a small box. There is something about a box and a kitty that simply goes together. Any size will do.
And if you don't have a box, just an old Christmas wreath will do very well.
Thank you for sharing Poole with us.
Pookarina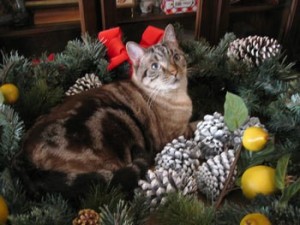 Add your voice! Click below to comment. ThriftyFun is powered by your wisdom!
Poole is a 5 year old American Shorthair. He got me over four years ago. He followed me to my house and never left! He likes to eat, play, and sleep. Wouldn't you if you were a cat? Sometimes I think of him as a dog in a cat's skin. He comes when I call him, does tricks, and is a great hang out cat. His favorite food is shrimp.
By Leigh
Answers:
Poole (American Shorthair)
Sounds like Poole would make a great twin for our Sir Catty-Kit. He too comes when called and jumps up on his stool when I tell him to so that I can brush him. Aren't they wonderful?

You have the advantage though since you were "Chosen". :-) I don't know what I'd do without this one that owns my husband, my son and me. He keeps us so entertained. I'm glad that you have a good buddy too, and he is such a handsome fellow.

Thank you for sharing him with us.
(07/30/2010)

By Julia
Poole (American Shorthair)
You can see it in his eyes that Poole has great Cattitude ;-) Thumbs up!

Since you mention how Poole loves shrimp I want to warn you and others that 'any crustacean' needs to be cooked before eating. There is a lung parasite which causes pulmonary disease that cats (and other mammals including humans) can get from eating raw crustaceans called "Paragonimus Kellicotti" and it's life threatening.
The only reason I know about it is when I rescued my Rachel as a kitten from the streets I took her to the vet for all of her shots and spaying. She showed no outward symptoms and Blessedly this particular vet had seen this disease before because when they put her under anesthesia she started vomiting foamy blood. The vet immediately stopped the anesthesia. They kept her for two days to stabilize her and she was on antibiotics for three months before she was well enough to go ahead and be able to spay her.

She is happy and healthy now thanks to that vet but she does have a weight issue because of having had that disease which put her system out of whack. She's obese even though she doesn't even eat as much as other cats.

Anyway, just wanted to put the warning out there just in case :-) Here's a link regarding the parasite:

http://animaldiversity.ummz.umich.edu/site/accounts/information/Paragonimus_kellicotti.html
(07/31/2010)

By Deeli
Poole (American Shorthair)
He is a beauty! And he seems to know it, too! Thanks for sharing your very dear friend! (08/02/2010)

By MB Norton