Thank you for Amelia's story and the times she is having with Bonnie and Toby. It would be fun to watch the 3 of them interact. I agree that people need to adopt adult cats if they can :)

Janus
Silver Feedback Medal for All Time! 360 Feedbacks
September 29, 2009
0

found this helpful
How wonderful of you to give Amelia a second chance! She is such a beautiful girl and maybe she can put her abusive past behind her and find happiness in your loving home. Bless you!

September 30, 2009
0

found this helpful
You are an angel. Amelia is so lucky to get a second chance, many others aren't so fortunate. God Bless You. Kay from NSW, Australia

September 30, 2009
0

found this helpful
Congratulations! Amelia is a beauty, and at last has found a home she deserves.
I was at the Upper Grand Humane Society on Monday, looking to see if they had a small dog for a friend of mine who has recently lost her companion of 10 years. I was saddened by the number of older cats there. This weekend they are having an Adopt-a-thon for cats and kittens, because they have so many at the present time.
If only people could see the wonderful character the older animals have, and understand that they will get as much joy and pleasure from an older cat as they would from a kitten. As an owner of three cats, I find it difficult to understand why the mature animals are passed over so often. My Older Tribe are such a wonderful bunch, I could not imagine life without them.
I wish you well with Amelia, time and patience is all that Bonnie and Toby need, however it sounds like they already have settled into their new life with their new sibling. I am sure it is a happy beginning for everyone.

lavonneann
Bronze Feedback Medal for All Time! 112 Feedbacks
September 30, 2009
0

found this helpful
I sincerely thank you for taking Amelia - you and she are both very lucky for this time ( maybe the other two don't appreciate it so much? LOL!) Hopefully you will be soon rewarded with that purr - poor kitty maybe forgot how?
Thanks again!

September 30, 2009
0

found this helpful
Adopting senior animals is a great thing to do. Amelia will come around. Your parody is funny, I currently am owned by 2 cats, Christmas, 21, and Stumpy, 17. Recently I lost Pookie, a 17.5 year old poodle, adopted when he was 9 and his owner died. When I am ready for another dog, (and cats) I will be looking for older animals to love.

Barbara
Bronze Feedback Medal for All Time! 104 Feedbacks
October 4, 2009
0

found this helpful
I adopted my Molly 3 years ago. She is 7 yrs. old now and just as you described with Amelia, she was abused and lived in a cage. I adopted her and she just seemed to say thank you. She was the only one in the house until last year I adopted Sammy, a kitten from the country. As I found out, Molly doesn't like male cats, because I have since adopted 2 more female kittens. She just sits and watches them play but doesn't seem to resent them like she does with Sammy.
It takes a lot of patience and love to bring these precious older cats around to trusting and loving you. Molly now comes and curls up beside me and puts her paw on my lap. So I guess I'm making headway with her. She is a blonde long haired Maine Coon manx and is so very beautiful.

(Guest)
Gold Post Medal for All Time! 846 Posts
October 15, 2009
0

found this helpful
I missed this original post somehow and definitely would have voted a thumbs up but am so glad that Amelia won the contest! Congratulations, Amelia, and I hope you you receive a treat of catnip ;-)
Bless you for taking Amelia in to your home and for your patience! I once took in an about six year old baby whose owners no longer wanted her :-( She would hiss and bat at me and I was so sad because I just wanted her to be happy and content.
It was about six months later that she had gone to the basement, came back up the stairs and dropped a mouse at my feet at looked at me with pride (with I swear a kitty smile) and my heart just jumped through my throat and I knew that mouse she caught (and thankfully killed -LOL) was a gift and that everything was going to be okay and that she was at peace and happy. From that time on she followed me everywhere and slept with me every night :-)
Yes, older cats might need more time and patience and time to adjust but they end up giving 200% love back once they feel safe and loved :-)

October 15, 2009
0

found this helpful
I was so touched by the wonderful messages so many left here. It is heartwarming to know so many others have opened their hearts to a cat like Amelia or at least understand the challenges she has. Thank you also for signing her Guest Book. I am going to buy Amelia a toy of her own and donate the balance to the Toronto Humane Society where I got her. Thank you again.
Lynn and Amelia
Toronto, Ontario Canada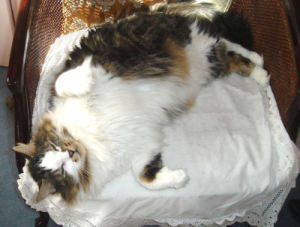 October 20, 2009
0

found this helpful
The world is a better place for someone as kind and caring as YOU! Amelia is beautiful. I had a cat who was difficult at times and she learned to love and play and was the best cat. I made mine something she loved. I took a small pillowcase and filled it with crinkly grocery bags and she dragged this pillow everywhere and would play with it and then nap on it. Also despite all toys she had and it was a lot she preferred the rings from the milk jugs. She would try to put these down the vents.