Waiting for a late-crop of tomatoes to go from green to red on the vine can seem like an eternity-especially in late August and early September, when fall is looming just around the corner. If at the end of your growing season you find yourself with a bushel of unripe, green tomatoes don't despair, and whatever you do, don't throw them out. You can easily harvest them and ripen them indoors, or make use of them in some great, green tomato recipes.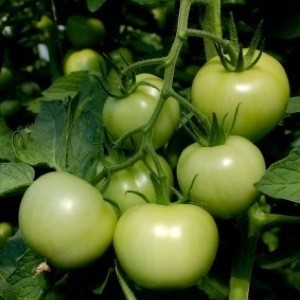 Ripening Tomatoes Indoors
Tomatoes ripen best between 60-70 F (extended exposure to cooler or warmer temperatures will interfere with the ripening process and affect the flavor). Tomatoes that are ripened for storage should be picked when they are fully mature in size, and have turned pale pink, to light green or white in color. Small fruits and those greener in color will neither ripen, nor develop satisfactory flavor. Save these for your favorite green tomato pickle recipes.
There are two ways to ripen tomatoes indoors:
Harvest them individually. Pick them, lay them in an open cardboard box (one to two layers deep), cover the top with newspaper, and store them at room temperature.
Harvest whole plants. If frost is imminent, the entire plant can also be taken up (tomatoes still intact) and brought inside. Hang the plants to dry upside down from the ceiling in the basement, and the fruits will continue to "ripen on the vine".
No matter what method you choose, check on your tomatoes every few days to toss any that may have spoiled. Mature green tomatoes will ripen in approximately 14 days at 70 degrees F and 28 days at 55 degrees F.
Cooking With Green Tomatoes
Green tomatoes don't have the same bold taste of fresh, fully ripe tomatoes, and that's a good thing. Their mild, sweet flavor (think zucchini) means it's easy to integrate them into a wide variety of recipes. From breads and soup, to jams, sauces, and casseroles, a quick search of the web will yield hundreds of recipes designed to showcase green tomatoes. Here are just three examples:
Fried Green Tomatoes
This traditional favorite is probably the first recipe that comes to mind when cooking with green tomatoes. It's quick and easy. Just dip tomato slices in a batter of flour, cornmeal, and egg before frying in oil. If you want to add a little spice, shake a few drops of hot sauce into the batter.
Green Tomato Pickles
Follow any traditional recipe for making dill pickles or bread and butter pickles and substitute green cherry tomatoes for cucumbers. This principle works for relish recipes as well. Enjoy your martinis with olives? Try a pickled green cherry tomato instead.
Green Tomato Mincemeat
A great alternative to this traditional holiday favorite is to combine chopped green tomatoes with chopped apples and simmer with traditional mincemeat ingredients: raisins, sugar, vinegar, lemon juice, cinnamon, nutmeg, and cloves. Pour over vanilla ice cream or use it as a pie filling.
Selecting Green Tomatoes for Cooking
Not all green tomatoes taste the same. Recipes calling for green tomatoes are referring to "unripe" (red) tomatoes, not varieties bred to stay green. Fully grown green tomatoes tend to taste less bitter than smaller ones. Save the smaller tomatoes for recipes featuring stronger-tasting ingredients like pickles and salsa. Before adding green tomatoes to any recipes, "core" them by removing the fibrous, woody stem and the pea-sized inner core.