By pat (Guest Post)
January 30, 2009
0

found this helpful
Hi, your dog sounds like he needs stimulating. Have you tried stuffing a hollow treat ball with treats. ie dog biscuits his favorite food, etc. You can buy them from a pet shop you can buy different sizes for the dog size. You can hold it for him until he gets the idea. Good luck.

(Guest)
Gold Post Medal for All Time! 846 Posts
January 30, 2009
0

found this helpful
Just like we humans some need more attention than others ;-) Your baby is only two and, having been deprived the first year of life, is still a puppy at heart :-) Just be patient :-) How old is the friends Dachshund and what breed is your dog ??? All breeds have different personalilites at different ages and some need personal play rather than a toy :-)

January 31, 2009
0

found this helpful
The daschund was just a temporary dog sitting favor - she was lost and returned to her rightful owner, someone with whom we have no contact.
Our dog is a pit bull- the vet said to call him a mix because we don't know his parentage.
He has the balls that you stuff with treats, but once the treat is gone, he needs personal attention - and that treat is gone very quickly.

January 31, 2009
0

found this helpful
He needs exercise bigtime. Find a local horse pasture where you could frisbee in a fenced area each day and wear him out! If you know someone who has dogs who would let your dog visit, that might be worth a try. Worst case scenario, tie him up with lots of chewbones for an hour.
By kathleen b (Guest Post)
January 31, 2009
0

found this helpful
It sounds like you could use the benefit of a crate. It is a good time out place. Also I would suggest watching Cesar Milan on the Dog Whisperer. He is awesome on changing a dogs behavior.
Like the others said it sounds like he needs way more exercise, and he is probably used to getting all kinds of attention from you in the beginning. You can break the habit.

Robyn Fed
Silver Post Medal for All Time! 398 Posts
February 1, 2009
0

found this helpful
It sounds as if he is past the age of being interested in toys. He is probably insecure from his past abuse and needs the reassurance of you being there for him. Talk to him quiety as you go through the day, but don't overexcite him. He sounds like a darling to me...give him a hug....remember they all have different personalities and he may never be lie another dog.....just his sweet self......Racer
By Lady (Guest Post)
February 1, 2009
0

found this helpful
Exercise and a "kong" toy with little treats or kibble inside will keep him occupied.

February 4, 2009
0

found this helpful
Honey I got the same problem except it has been too cold and I am going through premenopuse. Hubby does take her out to go get the paper and mail. However she is mommy's little girl when my 6 year old autitism girl get attention she wants it too. Yes she needs more exercise and see if you can go to a large field and wear you can walk and the dog be off his leash and just let her run.
If the dog gets away from you and the dog doesn't come back when called just bend down low and call the dog also if you can watch Cesear or the lady from britan she is good too. You will learn everyday just like I am and yes once the goodies are gone forget about it my dog just wants attention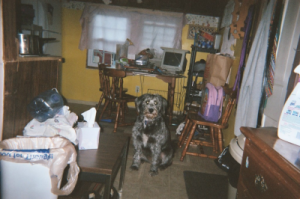 Louise B.
Silver Feedback Medal for All Time! 337 Feedbacks
February 7, 2009
0

found this helpful
Dogs, like people, all have different personalities. Your dog likely needs more stimulation than the other dog. He might grow out of this, and likely will when he gets to be a senior citizen!
Do you play as much as you did when you were 10?