We live on a farm and raise goats. donkeys, shih tzu dogs, and bantams, plus we take care of every other animal that comes around.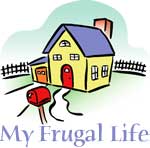 We are bird lovers, so we always take care of them along with the deer and the squirrels. I save everything, because I always see a purpose or a use in it.
I work on a lot of crafts like wreaths, dolls, and am learning how to make rugs from rags, I love it. The dolls I make are rag dolls and they are so cute. They are simple and easy to make out of scrap material and any other things you may want to have them hold, like small kitchen pieces or flowers. I also make wreaths which I love either with natural things from the woods, silk flowers, or a mixture.
I made a rug out of 6 heavy duty place mats the other day that I was so thrilled with. I had bought the place mats at a thrift shop and had all the sewing supplies here in my sewing basket. It turned out so good - I was thrilled. It worked in my bathroom great.
I look at everything to see how I can make something out of it, including even the fire wood we get to heat the house. Crafting is so good and recycling junk is so much fun. I have learned a lot by finding this site and I'm glad I did. I have a great imagination but learning from others is the greatest.
This is the neatest web site I have ever found. I sent in one question and got so many answers back from people which I will now call my friends. Thanks for being here for all us crafters and junk buffs.
By Denise from Irvine, KY
Do you have a frugal story to share with the ThriftyFun community? Submit your essay here: http://www.thriftyfun.com/post_myfrugallife.ldml