When I think of my mother, the first thing to come to mind is, believe it or not, food! Crazy as it may sound, you have to understand that my mom was a top notch cook during my childhood years. She enjoyed making meals for her family so much and went to a lot of trouble to make sure that we were not only well fed, but that our meal times were an enjoyable experience. She taught me many things about homemaking and most of that has been about cooking.
My mom took cake decorating classes and had quite a lucrative business from that for many years. She also took gourmet cooking classes every time she got the chance. She made a great effort to learn as much about food and cooking as she possibly could. Fortunately, she has passed that knowledge on to me, and I feel privileged to have it.
One of the big things that my mother has taught me is that, though you might not be able to make a fancy meal, you can still set a pretty table. No matter what you make, a pretty table can make the most simple and plain of meals seems like a gourmet feast! As nice as big, beautiful, expensive centerpieces are, you really don't have to go to a big expense for this. Something as simple as a pleasant scented candle burning can be very nice. Or, you can also go outside and in the fall pick up leaves, pinecones, acorns, or whatever you may have available in your area. In spring and summer, you can use flowers that have been hand-picked from your own garden! In winter, pieces of pine branches, etc. are very nice. Another thing that is fun to do is to stop along the road somewhere and pick wild flowers from the ditch.
Here in Iowa, we have a multitude of those in the spring, summer and even some in the fall. Hand made centerpieces are great and a lot of fun to put together! You can also come up with some very nice items at thrift stores for low cost. Use a pretty tablecloth, too. If you don't have a tablecloth, these can easily be made from some cheap material or even an old sheet.
Holidays were always extra special as my mother always made a big meal and all of the family was there. It was always a delicious and beautiful meal and it was extra special just because our family was together. My mother always made big holiday meals with many desserts to choose from. She always went out of her way to make things extra special, using the best dishes and table decorations.
My mom is now 79 years old and she does not cook much anymore since she has only herself to cook for these days. My sister and I handle the holiday times now as she is no longer able to do it due to her health, nor does she have the room in her small apartment. However, when we get together, we know that mom will always bring something that is tasty and wonderful and she will be helping in the kitchen, still teaching my sister and I all she can.
We are truly blessed to have her for our mother. The reason I have the job I do with Thrifty Fun is largely due to her and I want to thank her for all she has taught me and give her the credit due to her.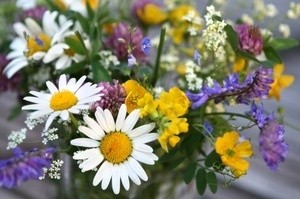 Add your voice! Click below to comment. ThriftyFun is powered by your wisdom!
March 10, 2009
0

found this helpful
What a sweet and thoughtful Tribute to your Mom. I hope she reads thriftyfun to see it to know how much you appreciate her. I too love a pretty table set and the simplier it is the prettier it is I feel. God Bless
March 11, 2009
0

found this helpful
I agree with previous "poster"; that is a lovely tribute. At last we learn how you started your talent for recipes. I believe I have archived most of yours over the last few years! (And use them, too.) Please pass on my thanks to your mother...and, again, I thank you.
Cay from Fl
March 11, 2009
0

found this helpful
Robin, this is a very exceptional tribute to your mom. They deserve to be recognized in a very special way. I believe that I love cooking because of my mom too. I have tried many of your recipes.
Keep up the good work.
Raymonde G North Bay, Ontario
March 11, 2009
0

found this helpful
This was just lovely. I also remember my mother by her food, and the smell of her kitchen.
What a nice tribute for a lady whom you obviously care so much about. Thank you for this, and for all our mothers. Leah from Down Under
March 11, 2009
0

found this helpful
Robin, that was nice to give kudos to your mom for all that she taught you. I was fortunate to have a wonderful mother too, who taught me just about every domestic thing I know. Since I am a fellow Iowan, it was especially interesting to me......thanks for all the wonderful recipes you have posted.
March 11, 2009
0

found this helpful
I, too, love to set a pretty table and use my prettiest dishes and linens for my family and friends. I have taught my daughters and sons that the plainest food (like cottage cheese, applesauce, mashed potatoes, etc.) will look appetizing if you put it in a pretty compote or bowl and add something like a cherry, mint sprig, celery leaf, chive sprigs, etc.
It takes very little to dress up a bowl of food. A bowl of fruit with a candle on either side (lighted, of course) makes a nice center piece.
March 11, 2009
0

found this helpful
Robin,
Thank you for sharing that tribute to your mother. I very much enjoyed reading it as I do enjoy your recipes. Your mother is obviously special but clearly she has a special daughter.
Maree
March 12, 2009
0

found this helpful
Nice Robin, really enjoyed your tribute to your Mum. All too soon they have gone, and it is too late to show how much you appreciate them. Well done. love this site. Have used a lot of the recipes in my work place.
Cheers from Australia & New Zealand
March 12, 2009
0

found this helpful
Your tribute brought tears to my eyes because not many daughters have had the loving kind of relationship you have with your mom. Tell her often how much you've learned from her, how much you appreciate all the efforts she put forth on your family's behalf, how much fun she injected into family dinners, etc. - her heart will swell 'cuz we all need to know how much we're appreciated!
March 12, 2009
0

found this helpful
I love your tribute! My mother was not a great cook. I think she was traumatized early in her marriage when she made a beautiful leg of lamb with mint jelly and my dad took one look and ran to the bathroom! (In all fairness, he couldn't help it. She didn't know that he was sick with a gallbladder problem and that jelly was the color of bile. He might have told her and spared her that distress.) But one of my fondest memories with her is the day we put up tomatoes in my kitchen, and she showed me how to do it. What a gift! My ex-mother in law really could put out a beautiful feast, with good family silver and china, but she had a heart of ice. How sad!
March 16, 2009
0

found this helpful
This is a very beautiful letter about mother. I'm sure she's very proud of you.
Jan Wimp
Add your voice! Click below to comment. ThriftyFun is powered by your wisdom!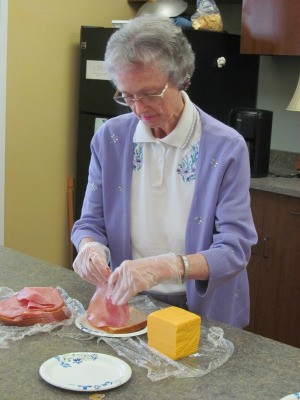 A Tribute to My Mom, Wava Marshall. Today the memory center where my mom lives sent me 4 photos of my mom via email. I am always SO glad to get things from them because I live about 5 hours away and really miss my mom. Anything I can get to let me know shes doing well is always an encouragement. A big thanks goes out to my sister, as well. She lives in the same city that our mom does and checks in with her most every day and is great about keeping me up to date on how she is doing.
I wanted to share this particular picture because it is of my mom doing what she has always enjoyed most; working in the kitchen. Shes not able to cook like she used to because of Parkinsons Disease and Dementia, but I'm so thankful that the place she has moved to gets her involved in activities in the kitchen. I know shes happiest there of anyplace in the world.
My mom is responsible for most of the HUGE library of recipes that I have as well as my love of cooking. I didn't always enjoy cooking, but am finding that the older I get, the more fun I have doing it and the more I like to try new recipes. I have a husband who loves to eat and that helps!
I'm truly thankful for all the teaching my mom did, even when I wasn't being very teachable, as a young girl. I'm glad she made me learn how to cook and care for a family and truly, that is where my heart is now and has always been. I will never teach the gourmet cooking classes, have the cake decorating business or publish a cookbook like she did, but I have learned invaluable lessons from this lady, and not just about cooking.
Mom taught me how to treat people with respect and love and more than anything else, that has made a huge impact on my life. I hate to see my mom in the shape she is in, but truly Im thankful for what the memory center is doing for her. She is more active and happy than she has been in years. They have really encouraged her to stay as busy as possible and what she can. I think she has found she can still do more than she thought she could, even with the shaking of her hands.
Thanks, Mom, for all you've taught me. You have all my love and appreciation forever.
Comments
November 2, 2012
0

found this helpful
That is a really beautiful tribute to your Mom. We lost my Mom to pancreatic cancer 5 years ago, and I still miss her tremendously. Like you, I was blessed with a wise and loving Mom who taught me how to cook and bake, but more importantly, how to be kind and gracious.
With nine children and the small business she and my Dad ran, both my parents found time to be very busy volunteers in our community. School board, PTA, church boards, fire department (my Dad), driving home-bound individuals to doctors appointments, etc.
I'll never know how they found the time to do it. But they taught us all an important lesson about giving of ourselves and sharing in some of the many blessings we'd been given. If I live to be half the woman my Mother was, I'll consider myself a success.
Enjoy your Mom while you have her. Even though things are not the same as they were, you are still blessed to have her with you.
November 2, 2012
0

found this helpful
My mom just passed away two days ago on October 31, 2012. She had Alzheimers and was 93 1/2. Your tribute is beautiful and I think of what my mom taught me. I love to crochet, she taught me when I was a preteen since I used to follow her around and want to know what she was doing and was it easy and could she teach me. I think she taught me just to keep me quiet, never realizing it would become a lifelong passion.
She gave me strength and independence. She believed in me and I learned so much from her. She had a hard life yet she rose above it. Even with a lack of education (she came from Italy and back then, they would leave school to help support the family), she was brilliant.
Treasure your moms, no matter what the age you are or she is when she passes, it will leave a void in your life.
LI Roe
November 3, 2012
0

found this helpful
Dear Robin,
What a beautiful tribute to your beautiful mother! Thank you for posting that, it was so heart-warming and reminded me to cherish the things I learned from my mom, who's been gone 10 years now. I lost her to a stroke at the age of 81 in 2002, very suddenly.
My mom grew up in the Great Depression and had a hard life, which only got better for a few years, then turned difficult again for another stretch. My mother worked until she was about 76 (part-time the last few years), on her feet in a retail store. No matter how tired she was, she never complained.
I miss her every day, and am thankful for the things I learned from her. Sometimes I catch myself doing something that would be just like her - a phrase I say, or expression I make, and it reminds me I should try to be more like her. I collect a lot of the recipes you post, and have tried a few - all wonderful.
You and your mom are good cooks! It must be nice to know that favorite family recipes will live on through being passed around through a network of friendly people like ThriftyFun. Best wishes to you and your mom. Please enjoy the time you have together. Sincerely, Rose Marie W.
November 13, 2012
0

found this helpful
A lovely tribute to your Mom. Yes, accepting "what is" can be a greater challenge sometimes than what "was". I read the three other posts and all of them are just lovely and thoughtful, also.