June 21, 2009
0

found this helpful
Best Answer
You may find some necessary items for interior decorating at flea markets and yard sales or even auctions or used furniture stores. Check your local newspaper to find where and dates being held. Oftentimes yard sales list what items they have to sell as well as auctions.
Also, you could use flat sheets as a bedspread with the matching pillowcases and add a bit of lace for a fancy border. You could also do cross stitch embroidery on solid color sheets set which is a very easy stitch to do and allows for your creative side to show through. At Family Dollar stores they have reasonable priced wallpaper border and you can get remnant material at WalMart at various price ranges to make a quick cover over a chair or sofa or to make toss pillows or curtains to match your decor.
If you have any great pictures from old calendars you could put them in frames to hang on walls or family photos haphazardly placed inside the picture frame. It looks like a crazy quilt when done and holds a lot of memories to you the viewer.
What about creating your own floral arrangements? You can buy silk flowers at Family Dollar reasonably and place in any type of container. If you're using a clear vase put colored flat glass marbles in first and then your floral pics and they will stay in place and has weight to keep from tilting over hiding the stems too. OR, use gravel or sand to the container and it will work the same.
If you've a creek nearby, you could walk about looking for nicely shaped rock or stone to decorate with around houseplants to give an outdoor look on the inside and help keep moisture in the soil and create a terrarium display to sit on a table or window sill. Add a small figurine and you've made something cute for very little cost.
Take a walk in the woods during the fall season and gather the wild grasses that look like willy worms on the top and spray paint them to match your decor and fit in a tall floor vase and add some cattails that have been given a clear coating to keep it together. You could even use pine cones and glue gun to tiny dowel rods and spray paint or leave natural. All this takes is your time and just a few dollars. You may enjoy browsing through the woodland and fields gathering interesting plant life to make your creation and find yourself in a relaxed state and having lots of fun too. Good Luck!
June 23, 2009
0

found this helpful
Best Answer
Join your local freecycle. I have recieved nice furniture from mine, plus given away a nice loveseat that just wouldnt fit in my little apt with everything else.
Especially living in a big city like yours you should be able to find tons of stuff on yours.
June 23, 2009
0

found this helpful
Best Answer
The Salvation Army in my area has great furniture and accessories on sale, often for 1/2 price. This usually happens on Wednesdays and Saturdays. Also drive around the night before garbage pick up, great finds!
October 22, 2009
0

found this helpful
Best Answer
I use flat sheets to make curtains. At the Salvation Army Store (Sallie's Shop) I can always find odd flat sheets for a buck or 2 I use these to make curtains. I buy lace at Walmart when it is on sale. Sorry I forgot to mention I have a sewing machine. I paid 89.00 for it on sale at Walmart.
June 22, 2009
0

found this helpful
Thank you very much Lorelei! very thoughtful idea. I love Family Dollar. It helps stretch my family's dollars (bad pun, lol) The flat sheet as bedspread is good idea.
OO cross stitch would be pretty and unique. Instead of trying to spend more $ on a comforter, plus it's hot in Texas! I will visit the remnant section in walmart. I've got a $4 piano bench that needs a fabric redo.
June 22, 2009
0

found this helpful
I know this may sound odd but if you frequent an online forum with people from all over the country that you like, have them send you post cards/note cards from various places - would be best to have them sent to a PO Box or your place of work, if they allow, for safety.
Ask them to look for cards that have little to no copy on the photo or graphic. Or if you like that, ask they look for fonts that resemble a style you like. Some font families can be found in various places like adobe.com or dafont.com so you can request styles you like. It's like a scavenger hunt for your friends to keep an eye out for them. Heck, I see post cards at local grocery stores.
Scour garage sales, thrift stores, etc for fun frames and learn how to frame them with mats and such. Put them up on a big wall in various frames, colors (if you want or paint the frames to be the same color) etc to create a wall of friends' (internet acquaintances you have a rapport with), if you will. Go towards the end of the garage/yard sales and leftover frames or pictures people no longer want are either seriously marked down or they will practically give them away. Keep an open mind because you can find a gem with frames that just may need a paint job.
That doesn't help with the furniture but will add some interest to a blank wall that needs some help.
June 23, 2009
0

found this helpful
I was going to suggest freecycle as well. Just go to freecycle.org and click on your state, etc. It's a great source for items you need; furniture, decorations, etc. Also, if you have a Dollar Tree, Big Lots, Ollies, Building 19, any of those type of discount stores have great things in them that you could decorate with inexpensively.
A couple things I have done in my apartment is to put a nice doily in a frame. It looks really nice. Also, I took a couple small things in my case they were some victorian style dress forms I found at building 19 and yard sales. I stuck them to the wall in a grouping with poster clay stickon stuff (can't remember the exact name of it!) Then I put a frame on the wall that encircled it. I also ran silk vines across the wall and archway.
I have an ugly, stained lamp shade that I can't afford to replace. So I draped a sheer curtain over it. I will try to attach pics of them. I have been a single mother on disability, and have to try to be creative. Not a fancy home, but. :)
Well, I tried to add other pics of the vine and lamp shade, but I can only get one pic to upload! Oh well, this one is a bit fuzzy, but I just took it real quick with my cell phone.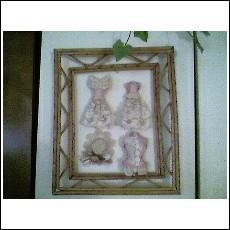 June 28, 2009
0

found this helpful
Thanks for all of the unique ideas. I will try them out, and try to stretch my little budget to save for my little ones.
July 2, 2009
0

found this helpful
King Dollar stores in Houston are great!
July 2, 2009
0

found this helpful
Joanie47 I have not checked out King Dollar! I love dollar stores and I think they did a story in the Houston newspaper about that particular store. Coflower that is a lovely idea about the postcards. I really love Asian culture and decor as well as other cultures around the world..they would look nice framed or even clustered as art. Dellajo that is absolutely adorable what you have framed. It looks lovely. Thank you all for the tips.
March 14, 2013
0

found this helpful
Spray starch and sheets for the walls, or flat sheets for shower curtain.