I am searching for ideas to celebrate my daughter's one year adoption. The theme I am using is "ladybugs". She is 15 months old and was adopted domestically at birth. I want to also create some special traditions.
Thanks,
Tina from Kentucky
Answers:
Ladybug Themed Party
If you sew and like making her things, you could buy cotton fabric with lady bug print and use it as your table cloth for the party, then afterward use the fabric to make her cute sundresses, short sets, twirl skirts, etc. With the colorful fabric as your table cloth you could let it be your main focal point, and then save money buy buying solid red color paper plates etc.
Dollar Tree has the cutest big lady bug toys, you could get say 3-4 and make red jello in a round deep clear glass bowl and before it sets let the toys be down inside the bottom of the jello for added theme decorations. When you are done just wash them.
Kids love face painting. You could do ladybugs on there cheeks by using the non toxic safe acyclic paints sold in Walmart craft dept for 44 cents. You would only need red and black colors. How about making grab bags out of lunch brown paper bags and draw ladybugs on them too with the paints. Red balloons with a black color sharpie used for the dots to look like ladybugs. Make a big brown paper bag lady bug and use black circle dots to do the pin the dots on a ladybug, have her name up the ladybugs center back and whoever gets closet wins a prize. (07/14/2008)
By Julie
Ladybug Themed Party
I just wanted to mention that the Germans consider ladybugs to be good luck. If you just Google ladybugs, you will come up with all kinds of neat stuff. This website (ThrifyFun) has some pretty ladybug painted rocks. They are very easy to make. (07/14/2008)

By Janet
Ladybug Themed Party
My friend recently had a ladybug theme for her daughter's 1 year birthday. She is not very creative, but made the most beautiful cupcakes using red and black icing, choc chips for spots, and white icing for eyes (07/14/2008)

By Kathy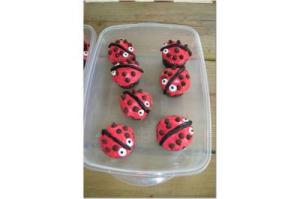 Ladybug Themed Party
A cute tradition you could start would be for you to take a picture of your daughter's little hand in yours and your husband's hand, and each birthday and as they grow you see them catch up to you. This is really nice if you are a scrap booker. (07/14/2008)

By Kathy