By Monica (Guest Post)
September 18, 2008
0

found this helpful
Dawn dish soap. Works well.
September 18, 2008
0

found this helpful
Very I have been putting on the floor shallow bowls of water with a little dish detergent around the House it's amazing how many you can catch this way, I picked up some sergeants cat Shampoo to give my new C.C. Boy a bath, he was covered with Fleas, it seems to be keeping them off of him.1 thing I did since it work so well on him I'd put about 3 tbsp. of the shampoo in a spray bottle of water and I've been misting the carpet in the floors and it has really knocked the flea population down I don't know if it's going to attract dirt eventually but so far I'm pretty much flea free I do a light misting every other day. There are nematodes that you can spray around the yard that will consume the flea and eggs and it even kills a large grubs' of the Green beetles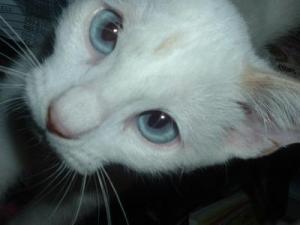 September 18, 2008
0

found this helpful
When we lived in Fl we were bombarded with fleas. The vet told me to give my Chihuahua baths with any dish detergent and the secret was to keep it on and sudsy for at least 10 minutes - which drives the dog nuts - she hates baths, but it works at killing the little beasties.
He also told me to sprinkle a bit of garlic powder on her food. I know many people believe garlic is bad for dogs but it worked for her and she is now 16 years old and as feisty as ever!
September 18, 2008
0

found this helpful
Might be worth looking into diatomic earth. I know it works on roaches, but maybe on fleas too? It is NOT a pesticide. It is actually made from the shells of tiny creatures (diatoms) and the sharp edges cut up the shells of insects leading to them drying out and dying. It's non toxic (although not a good idea to breathe the dust, it's physically irritating, just not poisonous.)
I don't think it's all that expensive, and a little goes a long way and would probably be perfect for the house and yard.
Also- I too have heard that a good old fashioned bath with Dawn dish detergent can help, along with getting a flea comb to try to comb some of the critters out!
Hope something works for you!
By Cathy from Townsville, QLD (Guest Post)
January 21, 2009
0

found this helpful
Put some brewer's yeast and/or garlic into their food. It helps control fleas.
September 9, 2011
0

found this helpful
Dry 20 mule team Borax - about 2 to 2 and a half cups in a colander to sift into carpeted rooms. That's the average room. Leave for 2 weeks for life cycle to finish before you vacuum. No fleas for at least a year and a half. Late 80's Flea busters was charging $250 to go through a small house with this very same 20 Mule Team Borax guaranteeing it to be non toxic.
Average yard - scatter cedercide granules, a natural product. A little goes a long way. 5 pounds lasts more than a year. Order online. Build your pets immune system with good foods. Some raw is best but forget the Purina and go specialty foods with no corn wheat or soy. More expensive but they eat less and feel better because their nutritional needs are met.
No vaccines to destroy the immune system. Read any anti vaccine site for ingredients in vaccines. Mercury, aluminum. antifreeze, rotting animal parts and loads of disgusting things. Study how often times parvo vaccine gives parvo. Research is beautiful and lifesaving.
January 21, 2017
0

found this helpful
Benefical nemotodes. These are predatories to fleas only. Spray on yard in spring. Pet or vet supply catalogs,and some gardening catalogs sell them. Also plant insect repellant plants like mint, crysanthumums, alliums, maragolds, pennyroyal, rosemary, misquito geranims etc i the yard or in low ground sitting pots. You can also use diatomacious earth sprinkled in yard. Its dusty tho. Hope this helps