January 25, 2006
0

found this helpful
Vice grips also work great. They usually have a back side behind a jaw which is rounded. Grip the nail in the jaws and lock it. Now bend the vice grips so the back rounded part contacts the surface. Now just keep bending back until the nail is levered out.
January 30, 2009
0

found this helpful
bulrush's advice is a good. Vise pliers are among the most useful tools I have. They replace normal pliers, clamps, vises and wrenches. For those who don't know what they are, see the image below. You can buy a generic one for about $4.99 although quality ones, like genuine Vise Grips, cost considerably more. My favorite though are the patented LockJaw Pliers. They self-adjust for thickness/width. Since the pressure is adjustable, you can even use them to clamp broken figurines as the glue hardens.
Normal vise pliers only adjust for width, with no option for pressure.
www.amazon.com/.../B000HT4J3I (Affiliate Link)
Looking at the vise plier below, you can see the procedure bulrush describes. Clamp the nail and lock the pliers. Then bend, using the rounded part as a fulcrum against the surface. The the lever action will pull the nail out. Gently rock until the nail is removed. If you are doing this against a wall, you might want to protect it by placing a cloth under the rounded part (aka fulcrum).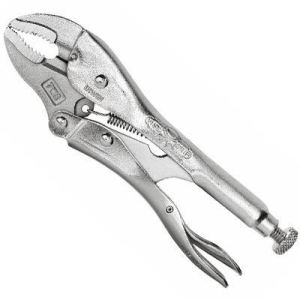 October 9, 2013
0

found this helpful
I'm a retired carpenter with 50 years in the business. I discovered that headless nails and other metal parts often needed to be removed, snipped or otherwise handled. Tool belts can hold only a limited variety of tools so we naturally didn't carry 'specialty' tools with us all day.
I consider vice-grips a specialty tool - I might not have used one for weeks at a time. So instead I carried an 8 inch end cutter. It would grip any metal part very firmly. Then lever the nail out. The tool needed to be replaced quite often because the jaws would chip under heavy usage. It was well worth the cost though, considering a professional carpenter's wage.