August 11, 2009
1

found this helpful
Best Answer
I've had extremely good luck using "OUT!" It's made for removing pet's mess, like cat & dog pee, poo, hairballs, vomit, blood, if this stuff will work for nasty cat urine, then human pee should be a cinch. It even removes blood from clothes. It works with good bacteria & enzymes. It's sold in the pet care area at Walmart & Target. It cost $4.79 at Walmart for a rather large spray bottle and smells lightly of vanilla. You have to keep it wet for the enzymes to work. Just spray it into the area where the urine is & cover with a plastic bag to keep the area wet, then leave it sit from an hour to overnight. The enzymes will do the trick. You may have to do this twice. Don't use bleach or other cleaners at the same time or they will kill the good bacteria & enzymes. If you can't find OUT!, then any "Enzyme based" pet cleaner will work.
If you apply the OUT twice & still have odor, then you haven't gotten it on to all of the urine. Try it again. You'll simply be amazed at how well this "OUT!" stuff works. I've gotten tons of mail from people here on ThriftyFun that can't believe they actually got rid of nasty pet odors, one letter was from someone who "had a problem with ferret urine around a window for years".
Another thing that works wonderfully and you can use it after the OUT! is Peroxide. Also, you can use Vinegar and water mixed about half & half (or a little weaker). Vinegar removes odors & Peroxide "eats" & fizzes away all organic /natural stains (including dried-on blood, coffee, cocoa, grape juice & red wine).
January 16, 2017
0

found this helpful
Do you just spray inside the vent with a squirt bottle? We can't keep the area wet because it's 2 degrees outside. I'm hoping to use the vinegar and or peroxide.
August 13, 2009
0

found this helpful
Best Answer
In most stores like Home Depot, or Sam's they sell a product called Odoband (I hope I spelled that right?). It sounds like it is "Oh-dough-ban". This stuff takes out all kinds of smells. Try it, I am most sure it will work after a couple times.
August 16, 2009
0

found this helpful
Best Answer
I am sorry this has happened. Someone used our vent for a potty before we moved into our home. My daughter's room smelled terrible. We had to not only close off the vent, but tape cardboard over the vent.
We finally got the heating and air people to come out. If I had poured a liquid such as vinegar (which I have always used to neutralize potty accidents when sons where potty training), the heating and air people told me that the liquid would disintegrate my duct work. They had to cut a hole into the ceiling (in the basement, below the duct work). Then cut, remove; then replace the duct work. There is an insulation-type material in the duct work that the urine has soaked into. However, more liquid will just eventually eat away at the entire duct work. Good luck with your problem.
August 17, 2009
1

found this helpful
Best Answer
Well first I tried vingar. It gave the room a smell of acid urine. Then I tried baking soda, it didn't seem to work at first but a couple of days latter the smell was gone. Lucky for me we had steel duck work so the urine didn't soak into the fiberglass insulation. Thanks everyone for your help.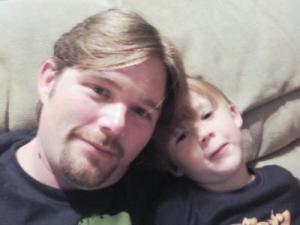 November 30, 2016
0

found this helpful
Did you just use baking soda or did you mix it with water? The former tentants let their cat use vents as a potty so whenever heat kicks on it smells horrid!
August 12, 2009
0

found this helpful
Don't you love kids? He will turn back into a human, but in the meantime, if you can, try to find an activity that removes you from his world. Just for your sanity, for a little while. Best of luck.
August 13, 2009
0

found this helpful
I once had a problem with a cat that urinated on a cement floor. The vet said to spray the cement with white vinegar. It worked. If it will work for cat urine it will surely work for you.