April 24, 2009
0

found this helpful
Hello, I am a multiple dog owner as well and you can make it work, but there are some thing I think you should know. When you have more than two dogs they become more of a pack than a close pet. They will have to restructure into pack rules. There will be an Alpha Dog and the rest will follow. There may be times when they fight but it is okay unless someone really gets pinned. This is how they play and decide who is Alpha. They will get rough everyday. You can devide them when you are not home to help. It will take time to adjust. The Husky makes a realy good dog but needs to be brushed alot and will shed all year. If you decide to keep them I recomend a Furminator brush. They are expensive but well worth the wait in gold with brushing Huskys.

Cyinda
Bronze Post Medal for All Time! 213 Posts
April 24, 2009
1

found this helpful
Walk them as a pack. Keep them right next to you (2 on each side) & don't let them wander. Walking together as a pack will make them bond. Be sure to do this once a day for 45 minutes! Stop any bad behavior right away or you'll have behavior problems later! Also, don't favor one over another & don't let them give you any trouble or growl at each other (or you) during feeding time! Make sure your kids & whole family follow the rules for the dogs & never favor one over another too! YOU should be the pack leader so none of the dogs turn "alpha" (as ssjb33 said one would).
If one dog gets out of hand (& fights) it helps to make them lay on their side (submissive) showing his belly to the others. This is the way a dog will show he is submissive to the other dogs. Everyone in your family has to make a commitment to walk & care for the dogs making sure each dog follows the house rules! Running in the yard isn't enough, be sure to walk the dogs daily! (walking stops all kinds of bad behavior) Just think how you'd go crazy if you were cooped up in the same yard day after day, week after week! Good luck!

Robyn Fed
Silver Post Medal for All Time! 398 Posts
April 24, 2009
0

found this helpful
I am sending you a link that is not for the squeamish to look at due to graphic photos of dogbites, but you need to know the information on how to break up a dog fight without getting hurt in the process. I own multiple dogs and have learned a lot from Ed Frawley at his website and the free articles, podcasts and streaming video.
leerburg.com/.../howtobreakupdogfight.pdf
I think this can work. Also research on this site dealing with the dominant dog, and other things to do with pack structure and such. They all sound wonderful. I have two germans, two small dogs, a fish a bird and a soon to be ferret, not to mention the rabbit. Occasionally the germans will get into a fight.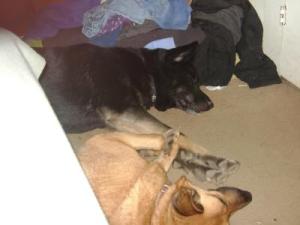 Robyn Fed
Silver Post Medal for All Time! 398 Posts
April 24, 2009
0

found this helpful
With all due respect to the previous poster, please do not ever do an Alpha Roll on a fighting dog as this positions your face right around his jaws. Any person who tries to roll a dog over who is acting aggressive is asking for trouble with a truly angry or aggressive dog.

May 5, 2009
0

found this helpful
At present I have 7 dogs. I have 2 min.dachsunds,one pomeranian,one chihuahua/wire hair terrier mix and the latest addition to this group of indoor dogs is a female puppy that I found in a parking lot. (Other dogs are all males). The pup is about 3 mos. old now. When I brought her home, they about sniffed her to pieces, but now they all get along. My other 2 dogs are larger outdoor dogs,both female.
Luckily they all get along. Yes,there are occasional squabbles,but nothing serious.
I don't know what the secret is, I just know that it is possible to have multiple dogs. Four of the five indoor dogs are "lap dogs". The other prefers his "hiding" place under my chair. He also sleeps under our bed while the others sleep IN the bed.

May 6, 2009
0

found this helpful
Hi, I have had multiple dogs, now 4, for many years. I have never had a problem with behavior. In fact we often got puppies or younger new dogs and they learned their behavior from the older dogs. We had a old arthritic Samoyed that often laid down to eat or drink from her bowl. When we got a new pit bull puppy she copied the behavior. My son got a lab (after the samoyed had passed on) and now he lays down to eat or drink copying from the pit.
This illustrated to me how they learn from each other as much as from the human. As others have said introduce them in a neutral territory and walk them together as a pack as much as possible Good luck and congratulation on your wonderful dogs.