Being super poor isn't that bad.
After graduation, most people go out to a big fancy dinner, spend lots of money on graduation gifts and have a big job all lined up. Nope. Not us. For dinner, we enjoyed Hamburger Helper from the $1 section at the grocery store (with free meat from my parents' farm). I gifted my husband a small $15 cooler he can use when he commutes to university this fall, and he is still working at the same part-time job, probably for the next two years.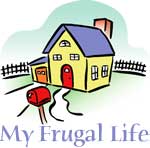 In a way, it's a blessing to be poor. We track every cent we spend, we always communicate about our finances, we don't buy frivolous things, our house isn't full of "stuff", and we find creative ways to entertain ourselves. We use cloth diapers and eat simply. We have a garden and I only buy books at yard sales. Being poor has forced us to manage our money better and think ahead.
True, we can't have the nicer things in life. We buy furniture at garage sales and I'm a freecycle.org frequenter. But my husband is able to get an education. Since our income is low, we are receiving financial aid for college, plus extra grants for gas and books. Somehow, it all works out and we are able to pay for the things we need, and in the end, it's hard to put a price on education.
Now that I think about it, my family was pretty poor when I was little. At the time, I didn't even notice. I had everything I needed, including a loving family. Someday, when my husband has a real job, it will be nice to be stable and upgrade our couch from a brown hand-me-down to something that actually matches. But until then, I'm thankful for what we have.
Carrie S. from Yakima, WA
Do you have a frugal story to share with the ThriftyFun community? Submit your essay here: http://www.thriftyfun.com/post_myfrugallife.ldml