13 years ago, my husband Jerry and I lived in Los Angeles. We owned a business and we were making a lot of money.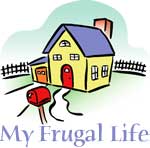 We decided to give it all up and move to the Ozarks, where life is more simple. Now that we are living in the Ozarks, we are living on his SDI and my Social Security. It is so beautiful back here. The leaves change in the fall, and usually it snows in the winter.
Yes, we are living a simple life, and we wouldn't give it up for anything, even money. We now live in a small town where we know one another and greet each other by name. Sure, we don't shop at the mall, we get our clothes at yard sales. We don't go out to fancy restaurants like we used to, we eat all of our meals at home. Yes, we have to make sure the lights are turned off when we leave a room, check the monthly grocery sales and make sure the left-overs from dinner are used in another dish, and not wasted, but some things in life are more important than money.
Linda :o) from Sarcoxie, Missouri
Do you have a frugal story to share with the ThriftyFun community? Submit your essay here: http://www.thriftyfun.com/post_myfrugallife.ldml