April 14, 2009
0

found this helpful
Hi,
I also like red, but a red sofa & wall is too much. The colors that would go great are a chocolate brown or a mocha. Maybe you could paint the stripes on the wall to give it some appeal! It's your special space, you make it your haven.
Best of luck!

April 14, 2009
0

found this helpful
Both sofa and wall being red would be too "busy". I'd go with a neutral color sofa, red on the wall, or just one wall and maybe some red pillows.
A khaki or wheat wall color would go well with a red accent wall.

Lee Taylor
Bronze Feedback Medal for All Time! 171 Feedbacks
April 19, 2009
0

found this helpful
I agree with both people. You can get great decorating ideas from furniture catalogs or online websites like Pottery Barn, Restoration Hardware, Crate and Barrel, etc. Just look at how they use color on walls and furniture. You'll get plenty of inspiration there! Happy decorating!
-Lee in FL

April 19, 2009
0

found this helpful
The Fung Shui people say that red is the angry color, the color of discord and strife. A house will sell poorly if it's got red in it. Green and botanical themes sell best.

April 19, 2009
0

found this helpful
I think a red accent wall would be good if it was a really close match to the red sofa. I would not make this wall the one the sofa goes on. I like grey or taupe as a neutral with red. You could always do the ceiling red and the walls a coordinating neutral.
Don't forget to add some other red in the rest of the room as accents, but not on the sofa. Red is hard to match though.

April 19, 2009
0

found this helpful
I am pretty sure you are moving into an apartment, so the advice on selling a home was confusing...
Black goes great with red. My bathroom is reds and blacks, and it's a very classy combination. However, I do agree that a red couch on a red wall is too much.
Perhaps you can leave the walls the cream they most likely are, and get some red accents like pillows, curtains, rugs, vases, photo frames and flowers.
Then, your accents can change as your tastes change, and you won't have to pay for a repaint job should you move.
Here is a partial shot of my bathroom so you can see the colors.
Good luck!!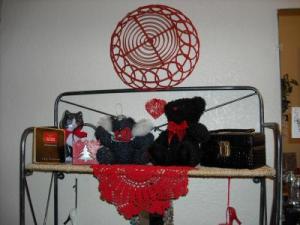 April 19, 2009
0

found this helpful
Personally, I think a red sofa and a red couch might be distinctive and unique. While some people might think it's too bold, you should probably decorate to suit your tastes because you're the one that has to live with it. After all, some people like their chili mild, and some people like it extra spicy. Thank goodness there's enough room in the world for all kinds of tastes.
Having said that, I would suggest that you test out the red/red before committing to it. Maybe you could buy a red slipcover/sheet/blanket to put on your present couch, or even pin it up to cover your wall to see how you like it. If it matches what you want, then you can go ahead and buy the paint and the sofa. (If you do, please post pictures here so we can all see how it looks.)

April 20, 2009
0

found this helpful
Personally. I'd have a neutral coloured sofa and red walls.Much easier to change wall color if you get fed up with red. Jan UK

April 22, 2009
0

found this helpful
Imho, red is too strong a color to be used on both the walls and the sofa. I think you will be surprised at the results if you reserve your favorite color for ACCENTS. If you use muted colores on the walls... and possibly the sofa, your REDS will "show off" better.
Psychologists have learned that people have more arguments in rooms that are a bright color. I forget if it is red or yellow. But I do know that color effects our moods and life is already stressful enough for most people.
I've seen on tv that designers usually choose three colors for a room. The dominant shade will be used for 60% of the room. That would be the walls, ceiling, and floors. Another 30% goes to the 2nd color or shade. That would be upholstered furniture, etc. The final 10% is devoted to the last shade which would be accents.... including window treatments, lamps, and pillows. I wouldnt be locked into this formula as its only a guide. If you want to buy a red sofa, I suppose you should do it. But you'll then need to spread the red around the rest of the room to balance out that strong color choice. Otherwise the room will be "heavy" on the side of the room where you put the sofa.
If it were my home, I'd use grey or tan for the walls and upholstered furniture. If your sofa is a neutral, you can always paint a bright red block behind the sofa to make it stand out. I believe that is called "color blocking." To me, color blocking is an option that can be used a person doesnt need to have an accent wall. That is to say you dont need to make the whole wall red! lol
Perhaps you will consider turing to nature for your color choices. God didnt make the whole world red. He used green grass and shrubs and brown dirt with red roses and tulips. They support and highlight each other.
Best of luck... Now will you come and help me with MY house? rofl

December 20, 2009
0

found this helpful
If it were me, i would go with neutral walls. perhaps cream. i once moved into an apt. and 2 of the walls were a dk. green (forest) and 2 were similar to a Christmas red! I did not care for it.
I think that the most striking thing that you can do is to put a very large and dominate painting or print behind a neutral sofa. for ex. if you were to place a large painting of a gigantic red flower behind a neutral sofa on neutral walls that would be beautiful like Georgia O'keefe the famous artist known for her bright vivid colors. You can get prints inexpensively or a poster and frame it. that would be great and make your sofa the focal point of your room.
How great is that! nunley10