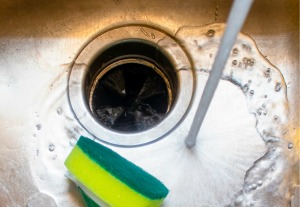 My garbage disposal is clogged after putting down a handful of frozen turkey. It spins, but will not drain. Where is the clog and how do I unstop it?
By ALICE KLEIN from Glen Allen, VA
Answers

December 3, 2010
1

found this helpful
Best Answer
Crawl under the sink with a flashlight and look for the 'reset' button. It's usually on the bottom of the disposer.

December 3, 2010
1

found this helpful
Best Answer
You might have to take the trap apart and clean it out too.

December 5, 2010
1

found this helpful
Best Answer
This was the best technique ever! One thing I did differently was that I plunged the side of the sink that wasn't clogged. The clogged side was so clogged that it had too much pressure to get the plunger to go down.
I plunged for maybe 10 minutes and then it was clear.

December 8, 2010
4

found this helpful
Best Answer
My Father-In-Law threw a bunch of potato peels in the disposal and stopped it up. Thank you so much for the tips. The hex wrench didn't do anything, but the vinegar, baking soda, hot water and a few plunges did the trick. The sound of the disposal working was music to my ears. We certainly could not afford $200 for a plumber to come out and fix it. Thank you, thank you, thank you.

December 9, 2010
6

found this helpful
Best Answer
Yes, this worked. I ended up using 3/4 box baking soda; 3/4 bottle white vinegar, waited 10 minutes then used 1 kettle of boiling water, had to plunge very little and voila, it's working again. Thank you so much for this great idea.
Saved me a ton of money! I had thrown carrot and potato peels down there and I know better than that. Felt really dumb as I knew this was gonna happen and that I was taking a chance. Anyway, thank you so much for this tip!

December 18, 2010
3

found this helpful
Best Answer
I had this exact problem today and was able to fix it by following the advice posted here to use baking soda and white vinegar. I used a 1/2 cup of baking soda and a 1/2 cup of white vinegar on both sides of the sink, waited 30 minutes, poured a kettle full of boiling hot water down the disposal side, waited a few minutes, and then plunged the disposal side until the standing water began to drain.
It worked! Thank you so much! Merry Christmas, Happy Holidays and Happy New Year!

January 2, 2011
2

found this helpful
Best Answer
To unclog my sink with two drains (one disposal, disposal side clogged):
Scoop out excess water from clogged drain
Baking soda & vinegar down both drains.
Wait 20 minutes.
Run disposal to stir things up (10-20sec).
Wait a few minutes and unplug grinder.
Fill sink with hot water as high as I could (for water pressure).
Stick hand in unit and find the hole that water goes out.
Mine is about the size of my finger.
Plunged with finger directly in the hole (using a plunger on the clogged side only made it come up the relief. Worked finger back and forth vigorously...lol, sounds dirty, but someone had to do it. And it was dirty).
Plugged it back in, ran more water and clicked it on.
Voila, fixed.
Potato and carrot skins that were the perpetrators.

January 22, 2011
2

found this helpful
Best Answer
Baking soda, vinegar, hot water & using the toilet plunger worked for me this morning. I was very skeptical, but the suggestions here turned out well for me!

January 26, 2011
3

found this helpful
Best Answer
Thank you! Thank you! Thank you!
This method worked beautifully, the very first time.
I poured a bottle of white vinegar down the disposal drain followed by a half a box of baking soda. Let it sit for 30 minutes. Then I poured boiling water down the drain and let it sit a couple minutes and then started plunging.
Took a good 5 minutes of plunging, but it finally whooshed free the clog and the beautiful sound of draining water could be heard.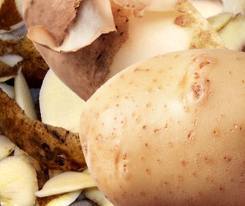 Answer

this Question
My wife put carrots and potato peels in the disposal and it is just a plugged up mess. It spins, but will not not drain. Any suggestions before I call the plumber? The disposal sits in the middle of the sink; it's not a divided sink.
By Scott
Answers

Vi Johnson
Silver Post Medal for All Time! 288 Posts
October 18, 2011
0

found this helpful
Best Answer
Try pouring in a 1/2 cup baking soda followed by a cup or two of white vinegar. Run the disposal. If that doesn't loosen try a second cup of baking soda followed by pouring another 2-3 cups of vinegar from the gallon bottle, With the disposal and water running as well. Follow with a pan of boiling water.
Then run cold water from the tap.Hope this works for you. It does at our house. And then run a weekly 1/2 cup baking soda and cup of vinegar down all drains in the house. Always follow with cold water to flush through. GG Vi
Answer

this Question
Like a dummy, I put tangerine skins with seeds into my garbage disposal. I turned it on and the light over my sink died as well as the disposal power. I turned the power off and let the water drain from both sinks. Then I used rubber gloves and cleaned all the mess. I used a flashlight and it looked quite clean.
I turned the power back on, pushed restart button, but the blades did not turn, only humming. Will baking soda, white vinegar and hot water help? I am a woman and do not know what else to do except call a plumber. By the way, I can turn one of the blades manually with my finger, it seems quite loose. Many thanks for any suggestions.
By A B
Answers

November 15, 2011
0

found this helpful
Best Answer
There should be a reset button on the bottom of the disposal motor.
Look under your sink and see what brand the disposal unit is. Then look up the manual online, if you don't have one. Use the manual to find out where the reset button is located. If you can't find the manual, then just look on the bottom-side of the motor. There should be a small button or switch.
Hope this helps!

November 16, 2011
0

found this helpful
Best Answer
Have you got this sorted yet?
Because the light went out over the sink I'm thinking the problem may have become electrical-losing the light over the sink means the disposal and the light are on the same circuit, and something on that circuit is overloading. It may be one of the seeds has worked its way into a spot that is preventing the blades from turning but the motor is trying-which is shorting your wiring to the disposal and the light.
If you haven't already and if it is even possible to do so, unplug the disposal and see if that gets your light back on. If that works, you need to have your disposal gone over by someone who is handy, or factory trained to work on disposals. I don't think you can get a service manual online for free.
It may not be possible to unplug the unit if the disposal is hardwired into the circuit. If that is the case don't turn on the light or the disposal until you have a qualified plumber-electrician (or trust-worthy handy type) fix the disposal. You could be looking at a pretty serious fire hazard otherwise.
Answer

this Question
Disposal apparently disposed of about 14-16 egg shells. However, the sink then began to fill with water and dirty grit. About a week earlier, I had about 3 ft. of cast iron drainpipe in the basement removed because it was badly cracked and repeatedly filled with pumber's epoxy. The dishwasher drain had been improperly connected into the cast iron pipe years before, so the plumber had to do a new connection into the new plasic drain pipe. I'm not sure whether I had run the disposal between the repairs and when the grit started filling up into the sink.
But I had run water into the sink, the primary sink side I usually use. It has now been about 2 days of not letting water go down that sink, so I assume the disposal is empty. What should I do to ensure that dirty grit isn't filling up into my sink through the disposal? I'm worried that perhaps a lot of cast iron pipe fell down into the pipe when that section was removed. I don't have a picture and the water has now gone down. There is only grit on the surface of my sink.
By Beverly
Answer

this Question

My garbage disposal runs and grinds up the food but the food just stays in the bottom. Is something clogged and if so, how do I unclog it?
By Marianne from Phila, PA

Answers

September 11, 2009
0

found this helpful
Best Answer
Perhaps you are not running enough water while the garbage disposal is on? Perhaps you put some items in the disposal that are not supposed to go in there, like banana peels? That is all I can think of.
Answer

this Question