Plants will grow in just about anything given the proper soil, water, and light conditions. If you're looking for some inexpensive container ideas, grab a pencil and some paper and take a walk around the house for a few inspirational ideas.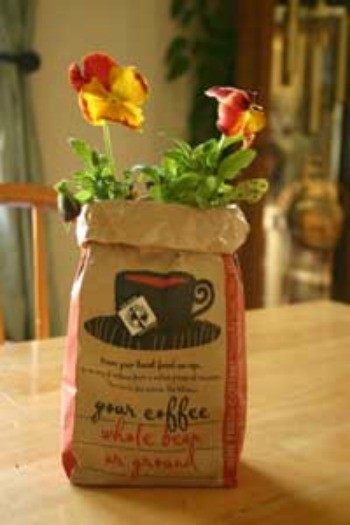 Containers From the Kitchen
The kitchen offers up endless ideas for containers. Onions, radishes, and other shallow root vegetables like beets will grow in Jell-O molds, cake pans, and aluminum pie tins. Ice-cream pails, crock-pot liners, and roasting pans provide plenty of room for plants with deeper roots. Other container ideas include plastic milk and juice jugs, plastic bakery cake boxes, old cookie jars or decorative popcorn tins, hanging kitchen baskets, old metal colanders, teapots, spice racks, and baskets.
Water bottles (cut down vertically or horizontally) or chipped mugs and teacups make nice window containers for growing herbs. Clear plastic deli and take-out containers work like mini greenhouses for starting seeds. Coconut halves and large gourds hold small flowers and herbs and hollowed out pumpkins work nicely as planters in the fall.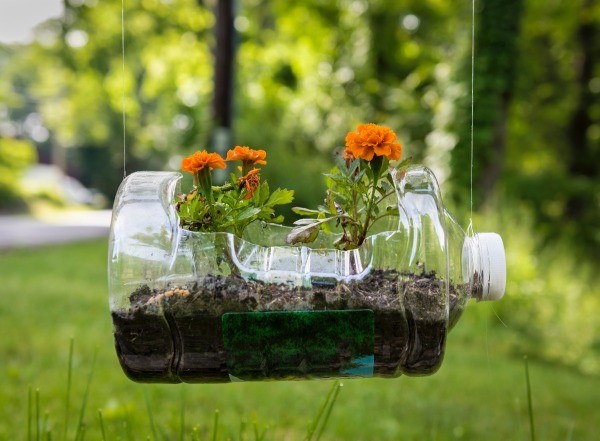 Containers From the Living Room
Tip an old bookcase on its back for a wonderful container with built in dividers (shelves) or try piling up and tying together a stack of hollowed out old books. Remove the insides from a set of old stereo speakers or flip over an old coffee table and you have instant containers.
Containers from the Dining Room
Piano benches, old musical instruments (think saxophones and guitars), photo boxes, cedar chests, and old trunks all have the makings for excellent flower and vegetable containers.
Containers from the Bedroom
Consider containers made from old dresser drawers, box springs, under the bed storage bins, duffle bags, backpacks, suitcases, and shoe or hatboxes. An old umbrella tipped upside down makes a lovely container-just punch out a few holes for drainage.
Containers from the Bathroom
Garbage cans, shower organizers, bathtubs, sinks and toilets make amusing containers-and great conversation pieces.
Containers from the Laundry Room
Washed out detergent jugs, old washing machine tubs, laundry baskets, laundry bags, rucksacks, and cat litter jugs can be creatively and inexpensively turned into useful containers. How about growing flowers out of your gardening gloves?
Containers from the Office
Tipped on their backs, file cabinets make nice deep containers for growing vegetables-the drawers can be planted separately. Think of any type of wall-mounted file organizer as a waterfall of flowers just waiting to happen.
Containers from the Garage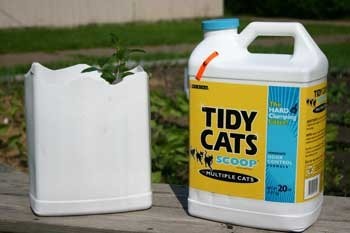 If you have a clutter-filled garage, you may have just won the container lottery. Paint cans (clean, of course), wheelbarrows, mail boxes, cement mixers, burlap sacks, basket or sport balls (cut in half), toolboxes, 5 gallon buckets, coolers, crates, wagons, fishing boats, canoes, oil pans, and minnow buckets all make good containers. Using them is a great way to clear some of that extra stuff out of the garage! Old appliances, like refrigerators and freezers (with doors removed) make excellent containers-you can plant and entire garden in them!
Containers from the Patio
Time to replace that old grill? Gas and Webber style grills (and their covers) make first-rate containers, as do plastic swimming pools and hanging baskets.
Containers from the Attic
Plastic totes and storage bins are lightweight, come in a variety of sizes and colors and are inexpensive and easy to modify for container gardening. You can find these "dirt" cheap at discount stores in the fall and spring-the times of the year when people typically organize their closets and drawers.
Remember, as long as you can provide drainage and enough growing medium for your plant, there's no end to the possibilities for containers. To find free or inexpensive building materials (and potential containers) left over from remodeling or deconstruction projects in your community, try www.freecycle.org.