I moved to this apartment, it is right next door to where I used to manage. Looking out my bedroom window, all I can see are the backs of their bedroom windows. No trees or sky, just terra cotta and blinds. So, I came up with an idea that I thought I would share with you. I had these old, thread bare, smoky drapes (you know the ones, apartment cream?)
Well, I got this wonderful plastic sheeting at Walmart. It's $2.97 per yard, but the sheeting is 5 feet across, so you get a lot more than a 3 foot piece. It's like lace, but you can't see through it. You can do the same thing with contact paper, but I don't like the fact that you can't really fix it once it's on.
So, I cut out the pieces I needed for the windows. I hot glued the corners, (use cool temp or it will melt the plastic). Then once secure, I taped all four sides with clear tape.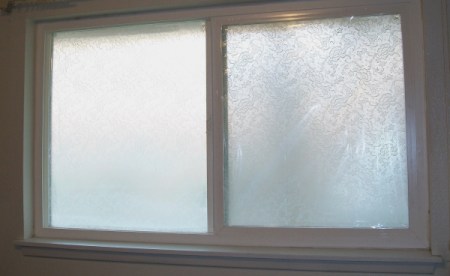 Because I didn't want to take down the ugly drapery rods, I chose to put up a board. I wish mine was wider than 3 inches but it was purchased for another project that got scrapped. I would suggest 4 inches as it would have sat better. Mine, in order to be back all the way, made the wallpaper bulge a bit. But, I am only using this room for a craft room/office, so it's better than nothing.
I had this wonderful wallpaper boarder, and hot glued it to the board, along with the pretties I didn't want to worry about falling.

Had I known that being off the mark by even 1/16 inch would have made the paper "ripple", I would have used thumb tacks and hot glued buttons onto them. I suggest that if you want to do something like this.
Another idea is lace, a valance, or gathered fabric.
Then, I simply sat everything up on top. It's not perfect, but I am sure if you follow my "oooops" and do something different, it will turn out much better. For now, this will do.
N-JOY!
By Sandi/Poor But Proud from Salem, OR