Want to update your tops? Grab your husband's old T-shirts that you are now using for rags!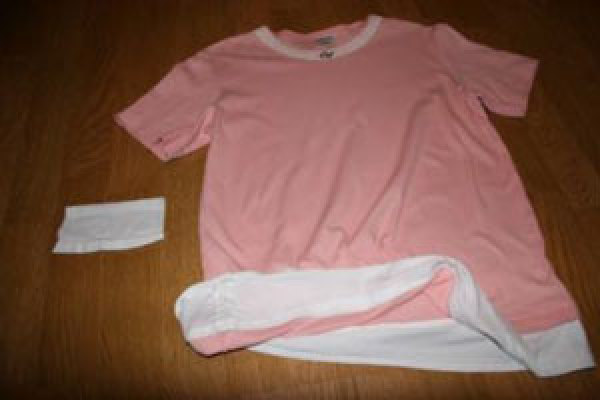 Approximate Time: 1 Hour
Supplies:
4 inches of old T-shirt
blouse or T-shirt
matching thread
Instructions:
Cut four inches from the bottom of an old t-shirt. (Generally the bottom part is still in great condition.) You will want to use the existing hem as the hem to the bottom of your update layered T-shirt/blouse.)
After cutting the four inch strip of white t-shirt, use one inch for a hem. Fold the hem toward the finished edge of the white t-shirt. (By folding over you will have a 1/2 inch hem and a nice finished line with no raggedy edging.
Pin to the inside of the peach shirt so you are able to sew on to the sewing thread line for the existing hem of the blouse.
As you can see in the picture, I have hand stitched the side seam for a clean look.
Enjoy!
By Tedebear from San Jose, CA