May 9, 2011
0

found this helpful
I think I'd paint the cabinets white, install some new cabinet hardware, and paint the walls a neutral beige (a color pulled from your flooring). Depending on which direction your window faces I might even skip window treatments. The idea for a breakfast bar is great. Good luck in your new home!
May 9, 2011
0

found this helpful
White cabinets, nickel colored cabinet pulls to match the sink, and the room appears a bit dark in the photo, so I would stay with a very light color for the walls. If you intend on lifting the flooring for another color in a few years, then I'd go with a color that compliments the countertop to keep from having to repaint anytime soon; otherwise, go with a color from the vinyl flooring as was already suggested.
May 10, 2011
0

found this helpful
I agree, white cabinets, light colored wall, like a pale beige and some nice cabinets pulls if you can afford it. Those things are so expensive. Depending on the pulls they may can be painted too. I'd get one of those blinds that look like wood. That's what I put in my kitchen and they look like real wood. There was previously an ugly blind there and changing made a world of difference. I think getting rid of the "thing" you talked about is a good idea and it will make the place look bigger and more updated.
May 10, 2011
0

found this helpful
That spindley thing has to go. That is dated. I agree with white cabinets. Good luck.
May 10, 2011
0

found this helpful
I like the idea of a breakfast bar and white cabinets also, but I would go for a zippier color than beige for the walls, and still keep them light. You might want to paint the ceiling a darker hue than the walls and install white crown moulding all around to tie in with the cabinets. That's what I did in my new bathroom, and I love it. The photo doesn't show it properly, but the walls are a light sage green with a darker hue of the wall color on the ceiling... I haven't finished decorating yet, but you get the idea.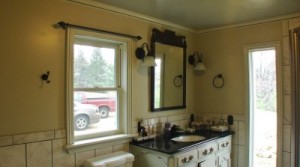 May 11, 2011
0

found this helpful
Chocolate brown, gray, or white cabinets and lime green, orange, or yellow walls. Unless the window is right at ground level and people can see in it I wouldn't worry about a full curtain or a blind. Just a valance at the top. It may brighten it up enough that you won't use the light much.
May 11, 2011
0

found this helpful
I disagree with everyone that says paint the walls beige. Boring. Make it bright, fun, playful and cheery.
May 13, 2011
0

found this helpful
Okay, I have figured out pretty much what I am doing as a whole for the kitchen.......
The walls are going a soft but somewhat bright green, called soft pistachio. The cupboards are definitely going stark white (What kind of gloss? Semi or High?) The door pulls are going to be satin nickel. Hoping to get these ones: http://www.kent … mp;catalogId=876
The window will be getting nothing if I can help it, blinds if my husband can't handle nothing on the window.....lol.
And I have decided to switch out the countertop to a more neutral one, thay way I can add more color with paint in the future. Also hoping to convince hubby that a new faucet is needed there ;).
Thanks for the input everyone.very helpful! I promise to post a photo when I get it all done.