Dinker is my 9 year old "Angel". My sister bought him at a pet store when he was 6 weeks old. He got sick, and my sister wouldn't take him to the vet. So, I took him and adopted him as my own.
Dinker likes to keep me on my toes. He has to have his food mixed up before he eats. He is so spoiled! He's not as playful as I would like him to be, but he has his days. Catnip helps pep him up. He's such a special cat.
Dinker is strictly an indoor cat. But, he knows in the spring that I'll go out in the yard and find some grass for him. He acts like a circus kitty when I bring the grass in, he'll follow me to the bathroom so I can wash it off, I can't get it to him quick enough. He also likes to be stretched, I have yet to get a picture of that. He likes to be covered up (see picture). If he's really cold, he'll sleep under the bed covers!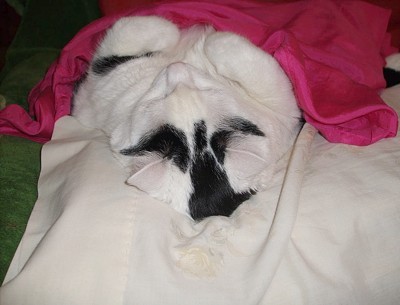 By Deborah S.