Ahh! There is nothing like the soft scent of peach, cinnamon, and vanilla; or maybe you like flowery scents like rose and lilac.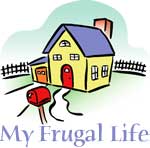 or me, I will always be reminded of my mother and the outdoorsy scent of balsam and pine she loved at Christmas. We are talking about scented candles, of course.
Everyone knows my weakness for scented candles and have given them to me for one reason or another through the years. I have also purchased them from time to time, and off and on would find a scent that my husband didn't like. So, I would burn that one while he was gone during the day so I could enjoy it and it would not go to waste.
Recently due to my husband's health, we don't have that pleasure anymore; but, I have to admit he is worth giving up the candles for. This fall we will celebrate our 43rd anniversary. When we came so close to losing him this past Christmas, those candles are meaningless of course.
To just throw them out however, made no sense. I studied a while and came up with a few ways to put my money to work for us. My first thought was, why not use the scent? It was when I burn them that they got too strong for my husband. On went the brain storming cap, and after a few lightning strikes and many thunder claps that sounded much like, "Nah that wouldn't work", or "Get a grip", the storm blew over and out of the calm came several possible shall we call "doabilities"
Melt the wax out of the jars first, then grate the wax and:
Mix marbles with scented wax chips to secure tapers in jars.
Make sachets and fill them.
Line a pan with parchment paper, put grated wax in and melt in oven. Let cool some, then cut shapes with cookie cutters. Poke a hole in the top of each with a needle for hanging on Christmas tree, lamp chains, etc.
Make holiday shapes with cookie cutters - poke hole and string to hang in window.
Tie on gifts.
Hang in cars and closets for deodorizers.
While still soft, engrave name in shape for gift tags.
Melt two colors separately, when they are about set take some of each and swirl into the other.
After the smoke cleared and my brain settled down, it was time to have some fun. First, I put the candle jar in a pan of water then put that in the oven at 350 degrees F and watched closely as the wax melted. When it had melted some, with an oven mitt on, I poured the melted wax off and into an 8x8 inch pan lined with parchment paper. I wanted the wax around 1/2 inch thick, so when it was set I could use cookie cutters in it and use the scraps for sachets. Hmm, pretty good thinking came out of that storm, I'm a thinkin! As the candle kept melting, I kept pouring it out.
Now that the candle jar is empty, my creative mind is spinning on what to do with it. Let's see, last fall I added to my seashell collection while I was in Texas. If I add that tiny piece of driftwood I found walking the beach here at our lake, a layer of sand, and a little tree... No, let's put one of the larger seashells in the bottom and anchor a couple of water plants, then add a few more small seashells and a goldfish. Yep, that is what I am going to do. Can't have a house pet like a dog or cat, hubby's allergies you know. Maybe I need to reconsider here- hubby- my wants- hubby-my wants-. Nah, my wants aren't very cuddly, so that's an easy one!
Of course, I could have just given the candles away to someone, but I love the challenge of recycling, reusing, and making something out of an object other than what it was intended for. Like the end caps of concentrated orange juice - did you know they make wonderful bases for pins, flowers made from ribbon, artificial flower arrangements for cakes, and with the ridged side up made a great holder for small items such as seed beads? This way I got several different products out of something I would have otherwise thrown away and had nothing to show for my money.
Doesn't that make you want to see what you can come up with? If you just go for it, you might just surprise yourself and have some fun doing it. With our economy in the shape it is in, we could all stand to be a little more frugal and making gifts is one way to do that. Most people really like knowing that you took the time to make something special just for them, even if it did start out being something as simple as the end cap from frozen orange juice; they will never know.
Woe be the day someone asks you what in the world they could do with the end cap from concentrated orange juice and you didn't know. Now you do know! Oh stop thanking me; of course you are welcome.
By Ann Winberg from Loup City, NE
Do you have a frugal story to share with the ThriftyFun community? Submit your essay here: http://www.thriftyfun.com/post_myfrugallife.ldml