I came from a home where everything was bought new. My parents would never buy "someone else's junk". They were frugal, but we did without many things because there wasn't enough money for everything.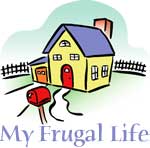 When I got married 30 years ago, we paid top dollar for our bedroom set, but lived with empty rooms so we could save for new furniture.
About 11 years ago, I wanted to buy a dining room set, which would have set us back about $6000, so I decided to investigate the used furniture market. I looked in the classified ads every week, and after 11 months found exactly what I was looking for, a barely used Thomasville dining room set for $1800. The couple was divorcing, selling their home, and selling the set because it was too big to fit into an apartment. A few months later, I bought a beautiful white Formica bedroom set for my daughter. The owners were moving across the country and it was too expensive to move it. I realized that people sell perfectly good things for various reasons, and I would be crazy to buy new if I could get it used. This started off a love affair with the used goods market
I started going to garage sales, which was a lot of fun. One of my best finds was a brand new anniversary clock for $8 that was $45 in a local department store. The woman's mother worked for the clock company and brought home many clocks. She had three of the same anniversary clocks, so she sold two of them. I joined Freecycle, where I gave and received plenty of items with a lot of life left in them. It made me feel good that I was doing something good for the planet, as well as for my wallet.
Speaking of wallets, I listened to my co-workers and neighbors complain about how hard it was to make ends meet. I tried to tell them about how we saved money, but they looked at us as if we were crazy. They still were under the impression that new was better.
Sometimes circumstances can change a person. My sister went through a divorce, and had to downsize. She was the one who ended up selling items for a fraction of what she had paid. A lot of the items still had the tags on them. It was a very humbling experience for her. A few weeks ago she called me and told me that she bought a rug that looks great in her new apartment. It was a good thing that I was sitting down when she told me that she got it at a thrift shop! She now goes to this thrift shop on a weekly basis, and has picked up some lovely things.
I believe that my spending habits, in addition to cooking from scratch, bringing lunch to work, and comparison shopping when buying new, have afforded me a lifestyle that is stress-free. Our home is almost paid for, and we managed to pay cash for our daughter's college education, leaving her debt-free. I am hoping that she will inherit our values and avoid the massive debt that many Americans think is normal.
Judy from Syosset, NY
Do you have a frugal story to share with the ThriftyFun community? Submit your essay here: http://www.thriftyfun.com/post_myfrugallife.ldml