I have mantras or adages that in the worst of times have always focused my thinking and my will power to look at problems directly at what I can control.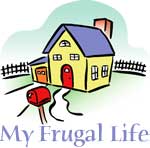 Believe me, as a single mother ,with no child support, there are things you can't control.
But focusing in on yourself, your home and your need to provide food, clothing and warmth (ie: the basics for your children) can provide miracles in frugality, ingenuity and thousands of added benefits provided to your children, through tough love and example. Does anyone remember their parents saying "this is tougher on me than it is on you"?
Well, that wasn't just because of spankings or punishment. It is hard to say no to our children. But, learn it from the beginning, or from the moment you decide what savings you want to gain from living frugally, and it gets easier every day.
First of all, remember it was but 20 years ago that millions of single women could not get credit cards or credit, or insurance rates comparable to men, because either no credit was established in your name or you were not considered "head of household" for insurance etc. Then remember that the basic instinct you will have to fight constantly is the urge to compete yourself with what others are doing and providing their children. This applies to married couples as well as it seems, every generation wants to provide more for their children than they received or experienced, but often the more stuff and toys provided, only takes away from the solid, basic knowledge that kids learn through their time and experience with parents, who mention and tell their kids what the problems are and how the family will deal with it.
It shows not only that the kids are loved regardless of the toys, but that they are considered capable of sharing the good and hard times with the adults. In stead of telling them how smart they are when they aren't demonstrating it in school or in actions, it lets kids know that you trust them to learn and contribute to the family and be smart or mature, when they feel like you treat them like a little kid.
Little words let kids know what is going on. Thus, telling the 3 year old you can't afford something isn't a negative image of you as a parent, but is a showing the child that adults have priorities, problems, and solutions that the child can trust the parents to control. My own adult children now won't say these words much, because my son-in-law feels it is a sign of weakness that he can't support or provide for his sons. But, remember that isn't the message children should be concerned about, that is a adult issue.
The issue for children is that the parent provides the very real and necessary needs of the child and in early years the child doesn't even know how to differentiate between the appearance of food for meals, and the appearance of lots of toys at Christmas. What is love before we learn what love looks like? Saying no to your children isn't a sign of meaness or your inability to provide, it is a sign that you are a good, worthy and caring parent. Not a enabler but a teacher.
Often learning to be grateful or appreciative, is learning the items that we have to do without, or the basics of necessity and unselfishness on the part of our parents and others. Later it is learning to say they can't go with their friends because they committed to a job for their cell phone bill. But, empathy and gratefulness is learned not something we are born with. Also children when young have no concept of value, so a Pokemon at christmas is just as exciting as a expensive toy they never saw or know how to use.
Joy is also something that is often missing in today's children, not because they are ungrateful or unhappy. Millions of children from successful middle income duel working couples, just don't have to wait or anticipate gifts and opportunities, as their parents did.
Think of Warren Buffett telling his children they won't inherit his millions, and still living in the same little house he bought 50 years ago. That thinking isn't something new and it isn't selfish or mean. It is thinking of his children's future ability to survive on their own, and Buffet failing to fall for the status symbol marketing and nouveau riche mentality of many duel income or fast rising stars of today's world. Its buying a house and making it a home and a security, rather than buying just for making a profit in the market, or betting on a turn over option. Buffet probably started out trying to plan on a stable environment for his children rather than planning on being a millionaire with toys to compete with, consciously or unconsciously. It's always the basics that we sometimes forget. That, and living one day at a time.
By Leslie from Albuquerque, New Mexico
Editor's Note: Because Leslie's essay is longer than our usual submissions, we are publishing it in 6 sections. Here is a link to the next section:
Do you have a frugal story to share with the ThriftyFun community? Submit your essay here: http://www.thriftyfun.com/post_myfrugallife.ldml