This recipe is delicious when used to stuff your birds for the holidays whether it be a turkey, chicken or, as we did for Thanksgiving Cornish Hens. It is very versatile, as you can also use it to make a casserole from the leftover turkey or chicken.
Ingredients:
1/2 cup diced onion
1/2 cup diced celery
1 cup chicken broth, reserve the remainder of the can
2 tsp. ground or rubbed sage
3/4 tsp. salt
1 egg
6 cups of coarsely diced stale bread (Stale French Bread is great here)
Directions:
Combine the onion, celery, 1 cup of the chicken broth, sage and salt in a small saucepan and simmer until celery and onion are tender. Set aside a let cool.
Meanwhile, dice the bread. Add half of the reserved chicken broth and the egg to the onion-celery mixture, stirring thoroughly. Pour over the dice bread in a large bowl. Mix gently just until bread is moistened. Be careful not to overmix. You may add the rest of your can of broth a little at a time if it seems too dry.
If you are using it to stuff your birds, pack it in lightly. It will expand as it bakes, so don't overstuff. If you have extra stuffing, put it in a greased 6x9 inch casserole dish and bake in the oven with your bird. You can cover it with foil so it doesn't get too dried out, then remove the foil when a knife comes out clean and let it brown a little on the top.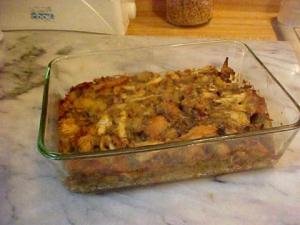 For leftovers, just chop your turkey and mix into the stuffing. Bake it in a 350 degree F oven.
Servings:
4 generous servings
Prep Time:
about 45 Minutes
Cooking Time:
45-60 Minutes
Source: I have been serving this with my Thanksgiving and Christmas Turkey for over 50 years. And it was always on my Mother's menu growing up.
By Harlean from Hot Springs, Arkansas