Marjorie
Silver Feedback Medal for All Time! 290 Feedbacks
October 30, 2009
0

found this helpful
Don't think it's a problem that can be easily fixed yourself. Call someone to repair it.

October 31, 2009
0

found this helpful
Have you completely emptied and cleaned the inside well, including the gaskets? could be a sensor that has dirt over it.

June 29, 2013
0

found this helpful
If the problem shows well into the washing cycle (about 18 min) when the heater is turned on it might be the following problem:
If you're sensitive to high voltages disconnect the dishwasher from the electric first or open the breaker.
Open the black cover over the control board inside the door. To verify that you have the same problem that I experienced you can try to run a full cycle after disconnecting the single red wire from P8. If the problem doesn't show then (maybe a flashing HO instead) it's the same problem.
If you locate the resistor R30 (maybe different number on your version of the board) near the relay block you might notice it's somewhat burned up.
Replace it with a 240 Ohm (or close to it) 1/4 Watt resistor. Mine worked after that.
September 5, 2018
0

found this helpful
Does this fix require soldering?

September 5, 2018
0

found this helpful
Does this fix require soldering?
Thanks,
Loutro
October 17, 2020
0

found this helpful
Why not just let p8 wire off?

November 13, 2020
0

found this helpful
I have a picture of what I am looking at attached can you give me a little guidance I am a Noob with this stuff. Thanks.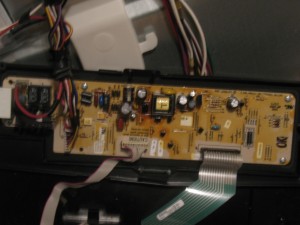 September 5, 2015
1

found this helpful
I had the same problem, CL code stopping in the middle of cycle. Richard is the man. I did what he said, remove P8 wire and ran a cycle, ran fine. Then replace the 240 ohm burnt resistor, mine was R38.
it was burnt like he said. Go easy on board, not too much heat, easy to damage traces. I lifted a trace and had to jump with small wire. but it works great. THANKS RICHARD!

July 10, 2019
0

found this helpful
Also seeing exactly this. Resistor R38 is burnt. Will try and replace and see if we can fix the CL code. What we've been observing is that the dishwasher will run fine "cold" but will error out mid-cycle, presumably when it gets hot.

October 25, 2015
0

found this helpful
Thanks for the great info. I found my resister burnt and replaced is as mentioned above. It fixed the CL problem but know i have an HD flashing. I replaced the heating element and high limit tstat.
Still never ending HD flashing. Any ideas? If the heating element heats the water to 140 then where is that temperature sensor located since the hi limit tstat can't be it.

April 18, 2021
0

found this helpful
The thermistor switch yellow wires. It causes HO error code because water temperature is low. Just jumper it out. I have my water heater set at 140 degrees anyways. The resistor replacement did not work for me. So I just took off the the P8 red wire which is the heating element circuit.

May 23, 2021
0

found this helpful
Im in the same boat here. Replaced the burnt R38 (though looking at images online I really think it might be a 120ohm, not a 240 ohm Ive tried both). I dont keep my water as hot as you, but plenty warm so I can just pull the P8. And honestly its not like Im a fan of the heated dry.
But this one is driving me nuts. Id really like to fix this silly board, but I just cant trace the issue. I know its been a month or so since you looked at the board, did you ever see any other possible fix on your board?
December 4, 2015
0

found this helpful
I couldn't find a 240 but I found a 220 it ran one cycle then started doing it again. Can I use a 340 ohm 1/4 amp

February 10, 2021
0

found this helpful
I had the same problem. I noticed that the screws in the sides of the door were loose, so I tightened them. That fixed it. Even though CL flashes when I press Start, the dishwasher now runs.
As I was squeezing the door together to make it easier to tighten the screws, I noticed the read-out on the panel flicker. So it definitely affects the electrical connections. My model is called Gallery. You can only see the control panel when the door is open. I don't have a model with the control panel showing with the door closed.

January 14, 2023
0

found this helpful
My boyfriend and I got the same CL message and I looked it up and it said the latch wasn't latched all the way or wasn't functioning. I thought maybe it had to do with the child lock or something so I had him press that and see. Annnnnd, sure enough, when he went to shut the door again, it latched and ran smoothly without another issue.