Zoey is a 6 year old Chihuahua/Rat Terrier mix that I got from the humane society, five years ago. She likes to play with her "brother". She loves to go for walks, ride in in the car and lick. She has a tongue that doesn't quit. :) She absolutely loves her "bo-bos" (bones)
My boyfriend brought Zoey home about 5 years ago. He went to the humane society and saw her trembling in the back of her cage while all of the other dogs were barking and happy. He asked about her and found out that she had been abandoned in a trailer. He said he could not leave her there and adopted her. I was not sure about this at first because I really wasn't an animal lover but when I looked into her eyes, I fell head over heels.
It was a tough road at first because she smelled horrible and refused to eat. She was so scared of my boyfriend that she would hide under the bed. It was sad. I finally got her to eat by putting food in my hand. After a few days she finally came around to me but was having a hard time with men. We found a bulge on her eye and had the vet look at it and it was caused by something hitting her. She said she was probably abused. It took awhile but she came around and loves her "daddy".
One thing that I have broke down on is letting her sleep with me. I used to have a blanket on the floor and every night would tell her to lay there but she would end up under the covers by my feet every night. After awhile of this, I just gave up and now I just say "lets go night night" and she is there in my bed under the covers. I call her my "bed hog". We got another dog just for her so that she isn't lonely. She loves to play with him and is a good "big sister". I never wanted a dog but now that I have my babies, I can't imagine my life without them.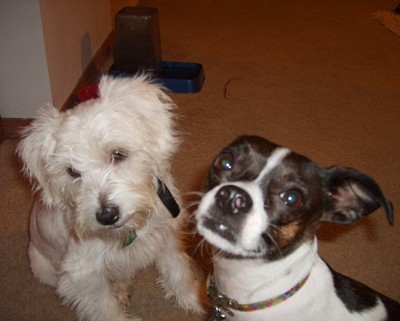 By Tammy