I have been thrifty minded for a long time. I grew up with a single mom supporting three kids. I saw how hard it was to make ends meet.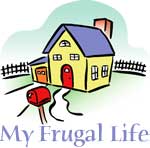 While I was married, I was a stay at home mom. So six people on one income required thrift. I prepaid our mortgage, paid cars off early and stretched our grocery budget. We spent $150 every two weeks for groceries which was mainly staples, meat on sale and shopping at Aldi's.
Since I have been divorced, it seems I have forgotten things like "waste not want not." I can be at work with a soda, throw half a bottle away when I leave and then kick myself when I need a drink because I am not going home for several hours. Instead of buying a travel cup, I just kept buying a drink at the gas station before work because I wanted ice with it.
I am learning that being thrifty is something I can't take for granted that I am. I must continually keep it in mind and look seriously at the things that I do every day without thinking. It is important to me to be thrifty for my finances and the earth. I do not wanted to be labeled merely a consumer, which in one book I read considers consuming to be something we burn up or waste. There is far too much consuming going on and our earth cannot withstand the abuse.
By Lyn from Taylorville, IL
Do you have a frugal story to share with the ThriftyFun community? Submit your essay here: http://www.thriftyfun.com/post_myfrugallife.ldml