January 11, 2007
0

found this helpful
Just let it wear off. Give her a bath a day for three days, and I'll bet it will be all gone.
By guest (Guest Post)
January 11, 2007
0

found this helpful
Nail polish remover? Be sure to wash her skin with soap and water afterward.
January 11, 2007
0

found this helpful
actually I ended up trying baby oil. I had most of it off by the next morning. The baby oil breaks it down and loosens its hold while keeping it from drying and itching so bad. Good stuff. Nail polish, even the acetone free stuff is too hard on young tender skin. So Thank you and with this little one on the loose, I'm sure there is still a whole ton of stuff I will be getting an opportunity to learn.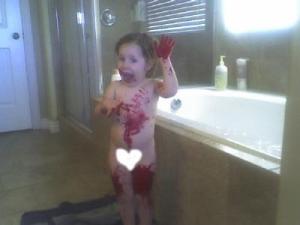 By guest (Guest Post)
January 11, 2007
0

found this helpful
Ok this picture is just too cute!!! It reminds me so much of how fast time goes by. As the mother of a freshmen in college and a senior in high school, I just want to say how precious each and every minute is. Please enjoy this beautiful baby.
January 12, 2007
0

found this helpful
OH MY !! I TRIED NOT TO LAUGH AT THIS PICTURE.
REMINDS ME OF THE TIME MY SON TOOK EVERY CONDIMENT OUT OF THE FRIDGE AND MIXED IT IN HIS TOY SOLDIER CONTAINER.(HE SPILLED ALL THIS ON HIS CARPET) AND HIS BEDROOM STUNK FOR A WEEK)THEN SPILLED GREEN GLITTER ALL OVER THE KITCHEN FLOOR AND ON TOP OF THAT MIXED FRUIT COCKTAIL AND CORN AND PUT IT IN THE FAN ALL IN THE SAME DAY(HE MANAGED TO GET UP A TAD BIT EARLIER THAN ME THAT MORNING)AND TO TOP IT OFF WE WERE GETTING A VISIT FROM HIS PRESCHOOL TEACHER THAT MORNING)LIVE AND LEARN.. AND LATER AFTER IT'S ALL OVER..LAUGH
January 16, 2007
0

found this helpful
You guys made me laugh and cry with your responses. Thanks for the input!
By guest (Guest Post)
June 27, 2008
0

found this helpful
We just had this same problem yesterday. My grandson is in a wedding in two days and covered himself and his bedroom wall and carpet with red nail polish. His Mom brought him to me so she could try to clean up the brand new carpet. I started researching the internet for ways to clean him and was startled to read that putting him in a warm bath for 15-20 minutes would work.. It was amazing as soon as we put him in the water we started seeing flakes of the nail polish in the water.
By guest (Guest Post)
February 4, 2009
0

found this helpful
My daughter just now did this. She looks a lot like the little girl in the picture, hehe. Thanks for your input. I will be trying each and every one of these.
August 13, 2010
0

found this helpful
Oh my goodness! I am so thankful for finding this! My little brother got my red fingernail polish while I was cooking breakfast and there was like a huge splotch on his face and he has it just everywhere! So I posted on Facebook "how do I get fingernail polish off a babies face?" and everyone was like fingernail polish remover but I'm not stupid I know that will irritate his skin so thank god I'm not the first to have this problem. :)