April 30, 2010
2

found this helpful
Looks like I forgot the picture. GG Vi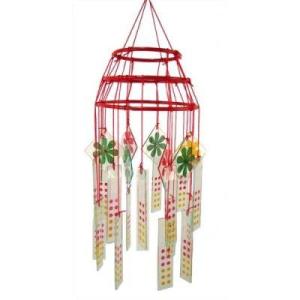 March 9, 2022
0

found this helpful
I have attempted to make these with stained glass. I drilled holes in the glass and strung the string with seed beads and tied the glass on. It was very pretty but the sound was clunky instead of the nice tinkling sound of the original.
I remember the original ones were glued to the string with small purses of gold paper and the glass was thin

Joan
Bronze Feedback Medal for All Time! 186 Feedbacks
May 1, 2010
0

found this helpful
I remember them, but have no idea where to find them or a pattern to make one. If you check on e-bay maybe they would have one listed for sale.

May 5, 2010
3

found this helpful
I remember seeing these. I don't have a pattern, but from looking at the picture and the fact that you want a small one, I would determine what I wanted to use for the string part. Then I would get macrame rings and wrap them (or leave them showing the metal color). Fasten the strings together at the top with a small ring, bringing them down and attaching the larger ring or rings, and then leave long ends to hold the chime pieces.
You might find small decorative pieces of glass at a craft store, or you might have to cut your own or use some other material. This is at least a starting point.

May 5, 2010
0

found this helpful
Thank you for your responses, and good ideas.
If I get one made i'll post it for you to see.
Thanks again,GG Vi

October 13, 2018
1

found this helpful
Did you ever find a way to make this winchime? I was just thinking of this type of wind chime this morning and tried to find one online with no luck. The ones I used to buy in the dime store as a child had the prettiest tinkling sound!
I was thinking you could get some lab slides and drill small holes in the ends for the string to go through. I remember on the old ones the glass and string were attached with glue an decorative paper.

June 26, 2019
1

found this helpful
The paper was rice paper

April 18, 2020
0

found this helpful
I have made lots of these but here is the problem. If you drill little holes at the top of the glass to tie the string to the glass the glass makes a clunking sound instead of the tinkeling sound the origamis made.
You have to find a way to glue the string on the glass to get the nicer sound

February 6, 2021
0

found this helpful
do you have instructions on how to make glass vintage wind chimes?
Thank You!

Jess
Silver Post Medal for All Time! 267 Posts
February 6, 2021
0

found this helpful
We have never received a pattern for this wind chime and the member who originally published it hasn't been active on the site in years. I hope we will get one in the future. Please share it with us if you are able to find one somewhere else.

August 29, 2019
0

found this helpful
I've also been trying to find these and have such fond memories of the sound. There are some listed on ebay that I don't think are quite as old as they ought to be and have surprising prices, given what the chimes cost originally. Inexpensive and elegant, they epitomized the magic of Japanese design.
If you can ever find it, there was an early Robert Altman movie--Images--that used the sound of these chimes in a somewhat ominous way to signify the growing disorder of the heroine's mental state.
August 13, 2020
1

found this helpful
Get on a site called Pinterest it is all free and they have just about everything. I have over 300 boards type in Cindy Curtis in the search and it should take you to my boards. I have a lot on these. good luck I hope find some.

October 18, 2020
0

found this helpful
Go to House of Rice and you will find these glass windchimes