October 7, 2009
0

found this helpful
Oh what a sweetie! He looks very proud and confident, sounds like you found the perfect match for your family :)

Robyn Fed
Silver Post Medal for All Time! 398 Posts
October 7, 2009
0

found this helpful
It sounds as if he approves of you wholeheartedly! My cats keep going into the sink and pulling my yellow scrubber out of it and chasing it around the house like a mouse. They are so funny.
I have big dogs, too, and the cats think they are great, I can't even believe the cats have taken to laying next to the open rabbit cage on a big table in the Living Room.
But they seem to adore each other, even though I keep an eye on them. The bird sits atop the rabbit cage, it's cage tied down securely...onto the rabbit cage, but Perry will never come out of his cage, even though I let him have the opportunity all the time. He lets us know if any one of our fur babies are acting in a manner not fit for a parakeet to view....LOL.
Give your wonderful Chester a hug and a kiss from me and all the animals over here! Here is Winky on top of Perry's cage watching the house from his perch atop the rabbit and bird cage....LOL. Racer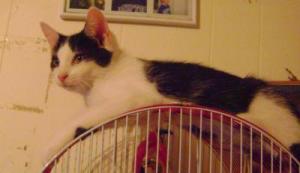 October 25, 2009
0

found this helpful
Ha, my cat loves drinking straws too. She scoots it across the floor and flips, catches and chews it. Good cheap fun!