March 28, 2011
0

found this helpful
Sorry they put the wrong picture on here. This is the correct one.
Editor's Note: Photo has been fixed, sorry for the mix-up.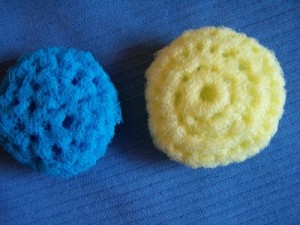 March 28, 2011
0

found this helpful
She didn't want to give you the pattern because she probably had to buy it from a website.
It looks very easy to make. Try crocheting two of them, then take your crochet hook and slip stitch the two sides together. Leave a small opening and stuff in some netting, then close off.
March 29, 2011
0

found this helpful
We got some larger one at a farmers market. I have seen these and love them but would like to know what kind of thread or yarn is used in them and where to get it.
March 29, 2011
0

found this helpful
NYLON NET CROCHETED SCRATCHER PAD
Cut nylon into 1½ to 2 inch strips, the longer the better. Work in ends as best as possible. Use a size J/K crochet hook.
Ch 5, form loop by sl st in first ch. Ch 3, 13 dc around, attach to top of ch 3. Ch 3, 2 dc in each dc around (26), sl st to top of ch 3. DC in each dc around. Attach
Decreasing inch 3, dc next 2 dc tog around (13). Attach. SL in every other dc until hole is small enough to end off.
March 30, 2011
0

found this helpful
I was looking for the same thing and found it at www.knitwits-heaven.com/pat.htm
March 30, 2011
0

found this helpful
I had to make one to find out how to end up
with what looks like the photo. I believe it's a crocheted circle, then the outer edge is gathered up the same as you'd do if making fabric yo-yo's.
Before tying it off, add the "filling" of additional netting.
Try it and see if it works for you.
Pookarina
March 31, 2011
0

found this helpful
Thank you everyone. I do have the pattern now and am making them. Now I can do both kinds and have my friends pick which they like the best. I'm so excited!! This website is the most wonderful thing ever. Thanks again to all that answered me and helped me out.