Almost two years ago, my husband and I bought our first home.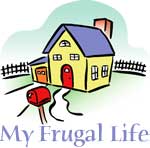 We were excited about finally being about to make a place our own: fun wall hangings, even more massive amounts of bookshelves, unique paint colors on all of the walls, and so on. About a year after being in the home, my husband decided that he wanted to go back to college and pursue his passion of exercise science. He does work part-time but, needless to say, our monthly income has drastically decreased.
They say that money issues often create conflicts between couples, but our money issues have just made us appreciate everyday things more often. While we used to basically waste our money on books and DVDs, we now use the library more than ever. When we kept our heat down quite low this winter, we snuggled up together (not a new trait) and drank hot tea and milk constantly.
We don't go out to dinner unless it is for a special occasion and would rather revel in the luxury of eating healthier foods, but eating them at our own house. Sometimes instead of going out for drinks, we stay home and have unique-flavored beers, all in the convenience of our own house.
While we never were gigantic spenders, we definitely used to spend money, at times, mindlessly. Now we are very aware of our purchases. We've stopped buying things just for the sake of buying things. My husband even has a name for our lifestyle. He says that we live in a "post-consumer age." While we obviously can't TRULY live without buying, we have re-thought our purchases and paid more overall attention.
Although we may have our lowest joint income ever, being happy and focusing on each other is truly worth all of the other sacrifices. We live simply, and we love simply.
By Michelle from Rockaway, NJ
Do you have a frugal story to share with the ThriftyFun community? Submit your essay here: http://www.thriftyfun.com/post_myfrugallife.ldml