By Angela (Guest Post)
June 30, 2008
0

found this helpful
I totally know what your going through. I have a pit/lab mix who was in the "chewing" stage a while back. Luckily he grew out of it. All I can suggest is being very aware of where your dog is and what they're getting into. Praise your dog for chewing on toys and put her in a crate(or somewhere she can't get in trouble) when you can't be watching her.
Remember that dogs can learn very quickly. She most likely doesn't know she's being bad but has been trained that you put her in her crate after you find her chewing. She's just doing what she's used to doing after she gets caught. Hope this helps just a bit. Hang in there and take away as many tempting items as you can. If she can't get to them then she can't chew them. It's important for her safety and yours.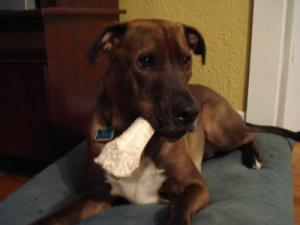 July 1, 2008
0

found this helpful
It is a phase and the dog will grow out of it eventually. The key is to be proactive and try and guess what may be tempting for your dog to chew. We have an American Bulldog who also likes to chew on everything. We can't leave books, shoes, or remote controls where she can get to them. Pillows are normally in jeopardy too. What we did if we caught her right away was scold her and give her something appropriate to chew on so she would start to understand the difference.
Also, invest in a big bottle of bitter apple. It is safe for fabric and wood. Spray it on whatever you think the dog may be tempted to chew. Our coffee table has tooth marks all over it and half of our couch is completely destroyed. Good Luck with your baby!
July 1, 2008
0

found this helpful
Make sure she is getting a lot of exercise,long walks,get some Kong's and stuff them,they keep a dog busy.
By Me (Guest Post)
July 1, 2008
0

found this helpful
I agree but the cords worry me the most. She could get electrocuted. Attach something noisy to the cords, like bells.If you have to put stuff in front of them so she can't get to them. You've got to make SURE she can't chew on them. Don't use the crate for punishment. It's supposed to be a safe den. You need to re-direct when you see her chew. Blow a whistle o just whistle & hand her an appropriate toy.
Don't scold her because to her it's just natural. Always re-direct & you can use a treat & then an appropriate toy too. She will equate NOT chewing w/getting treats. She will grow out of it like the others have said. I've been through it twice & it's a nightmare. My other dogs didn't do it. This works for any undesirable behavior. They quickly learn.
By Jazzylazzy (Guest Post)
July 2, 2008
0

found this helpful
You can buy a sanitized hollow bone at pet stores. Put a small amount of peanut butter or a cube of cheese in the center. Your dog will spend hours trying to get to the treat. Every time you see them starting to chew something they shouldn't, say "NO"and then hand them the bone and say, "Yes," Smart dogs want to please and will learn quickly.
It is natural to want to chew. Teach them what is appropriate. When I was going to be gone for a while from the home, I would give my dog her bone. When I came back, she was still happily chewing.
July 3, 2008
0

found this helpful
just keep enough chewy stuff for the dog
and kongs are great they keep them busy