May 4, 2010
0

found this helpful
Hi!
I came across several of these vintage windows that I didn't want to throw away. So I got a few books on decoupage (library) and decoupaged and painted them. On a few of them without pains, I got theorem stencils, one was of a snow man, and one was ocean shells, (theorem means they are layered and have a more polished look than just a one layer stencil). Neither of these projects are difficult. And with decoupage, you can go on line and just do a search for decoupage under glass, on windows or just plain decoupage, you can get so very motivated just by looking at all the beautiful work out there. I have sold a couple of them, but I also used oil stencil paint for the holiday themed stencils, used heavy gauge rope on back and hung them on the porch during the holidays. I hope I helped you some, good luck, I had a ton of fun!
Patti
May 5, 2010
0

found this helpful
Why don't you try sketching on them? They would look great sketched. You can place the pattern underneath and use a diamond point tool to sketch with. Good luck to you!
May 5, 2010
0

found this helpful
Here is a pic of one of my windows. I saved my cards from my children and glued them in the pane area.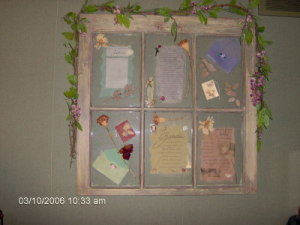 May 5, 2010
0

found this helpful
I have a cousin who removes the glass from the window pane and replaces it with mirrors. She also does stained glass. One of the window panes she made that I admired was a small window pane that she turned on its side, added the mirrors and then built a windowbox to add onto the bottom of the window pane.
I really liked that piece. She had planted some small flowers in it. Loved it.
May 5, 2010
0

found this helpful
On a craft show on HGTV the other day, she took glass and painted it pretty colors and hung them on the wall with mirror brackets.
May 6, 2010
1

found this helpful
At a craft fair last summer, one couple was selling them like hot cakes for bulletin boards. They had put cork board on the back of some, chicken wire with mini clothspins on some. They weren't even decorated. I have a four pane frame and plan on putting my collection of dried leaves in the panes, what I am going to mount them on I don't know yet.
April 27, 2011
0

found this helpful
I made a mirror with and old window pane. I scuffed up the side so different colors of paint would come through and placed a mirror behind it.
February 14, 2016
0

found this helpful
You can decorate them with static cling words, Dry erase markers, flowers, critters, etc. Then, use some binder clips to hang them.
You might want to put a small bit of cardboard or plastic or foam just inside the clip where it meets the glass (but is out of site) for security. I hope that helps. PBP