August 28, 2009
0

found this helpful
That is a very great idea. Like you said, everyone needs to decide for themselves what they need to cut back on. Thanks for your post, and for ideas on what to do with the 'saved' money!
August 28, 2009
0

found this helpful
I went to a garage sale this summer and found a nail care
kit 3 kinds of cream/lotion and a four sided gray nail care
foam thingy for a dollar. My hands had felt rough and I had been spinning fine wool and it kept catching on the rough skin. I don't like polish, etc, so that was why I bought it.
Well, let me tell you. That little gray rectangle, which I've seen at Sally's, is unbelievable. There's one side for buffing off the ridges, one for filing nails, one for something else, and the miracle side: the buffer.
My nails gleamed like polished furniture, They were beautiful, and it was all my own nails..I keep them short because of hobbies, but they looked so nice. Now it's time to do them again after 8 weeks. I also did my son's nails because he works with the public and shakes hands a lot. He couldn't believe it either.
I think the foam thingy is about $2 at Sally's.Then any nice hand cream. And it wasn't the cream making my nails gleam, that was before the cream.
August 29, 2009
0

found this helpful
Just a "heads up". I took a box of 200 pencils to our school last year for the teachers to give to the children who needed them. I found out that they were sold by the office staff to the children for $1 each and the money was used to buy the staff a new coffee maker! Beware!
August 30, 2009
0

found this helpful
I agree the cost of fill ins is outrageous. I had it done once and watched how it was done. Then I purchased everything for about $40 to do it myself.
I have been doing my own nails for over 20 years. It costs less than $20 a year now and I wouldn't be without them.
August 30, 2009
0

found this helpful
Some people think I spend too much money on things like soymilk when regular milk is so much less expensive. But choosing not to use any animal products is important to me so I just find creative ways to make the most of the rest of my money. The point of saving money is using what you save to live the kind of lifestyle that you want.
August 30, 2009
0

found this helpful
Great idea! Use some Nailtiques Formula II (best to buy at TJ Maxx or Marshalls) should have your nails up and better in not a lot of time! Use a quick dry top coat (if you have a Sally's nearby) Seche Vite is a GREAT one and you can do you own nails, for much cheaper!
Buy a Sally's card and you can get good NP (China Glaze) for a good price and it's a good polish. Now color won't stay as well as it does on acrylics, but you'll feel better you are taking care of not only yourself but others!
August 30, 2009
0

found this helpful
Kudos to you! More people should be like you. Most of us could give up some little thing in our life and use the $ to better someone else less fortunate! Grandma Jan & Kato the Wonder Dog
August 30, 2009
0

found this helpful
Wow. You sparked a realization in me. I need to look at what I think is significant to me. How much time and money do I spend on those things?
August 30, 2009
0

found this helpful
I like your generosity and community consciousness. Those children and nursing home residents will get a lot more out of what you might think are small gifts than you'd get out of expensive nail treatments, anyway. Thanks for sharing, God bless!
August 30, 2009
0

found this helpful
My nails don't grow fast at all but I like them to look nice. I buy the plastic glue-on nails. I have been using them for 21 years. have been buying them at Icing by Claires where they have been buy-one-get-one-half-price since they started carrying them a few months ago. You can buy 2 sets there for what you would pay for one anywhere else. They always have new designs every time I go there. I always buy extras of my favorite designs. I stock up every 3 weeks when i have money. i am building up quite a stockpile. They last for at least 2 weeks (or longer) if you take care of them. All the money I save I can use for new school clothes for my son and groceries and such. This design is my favorite.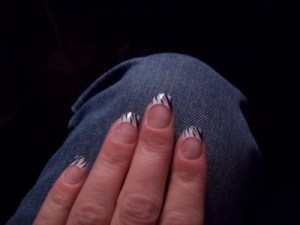 August 31, 2009
0

found this helpful
What a lovely and generous deeds you are doing. Thanks for the inspiration.
March 12, 2010
0

found this helpful
If everyone did that with 1 or 2 things-nails,1 fast food meal a week,1 latte a week-and gave/used 1/3 for charity and 2/3 for 1 family event (save all year and use for a vacation, to build a family memory, etc) just think how much happier we'd be! God Bless you!
May 9, 2010
0

found this helpful
I am responding to post about the school that used a pencil donation to buy a coffeemaker. (One dollar? Even the cute pencils I sell at the school book fairs don't cost that much! Those must have been extremely adorable pencils!). I am a teacher/librarian who has spent hundreds of dollars this year on materials for my students, much of it for reading incentives. I've paid for the contents of goodie bags, ice cream parties, library books, markers, pencils, the list goes on and on. There are far more teachers who would appreciate donations than those who would use them for personal gain. I really need to save more money for my own needs, but it is hard to resist providing materials that will enable and/or motivate my students. And I think that is true for most of the teachers I have worked with. So I don't doubt that this incident occurred- there are thousands of schools in this country- but it would be the exception.
August 7, 2012
0

found this helpful
You are girl after my own heart! The formula that I have used for years as far as handling my money in a meaningful way both for me and sharing with others was to take my hourly salary, - not particularly high, minus all the deductions (taxes, etc) and see how long I would have to work for a momentary "pleasure", or 'treat", versus long term satisfaction and worth. A lot of things quickly became not that important in the scheme of things as to what their real worth was. It put a lot of "stuff" in real perspective.
As to the mani-pedi craze , that has baffled me for a long time. What is the big deal? I've been given gift certificates, and felt I could do just as well myself. Didn't do a thing for me. I know my "gifters" intent was a treat , and I appreciated that aspect, but I guess it to each his own.
February 17, 2016
0

found this helpful
Following trends can cause us to lose perspective of our own values. What you did was to reaffirm one of your own virtues. You found more pleasure in helping others than in sporting fake fingernails. That goodness was in you all the time. It just needed a little nudge.