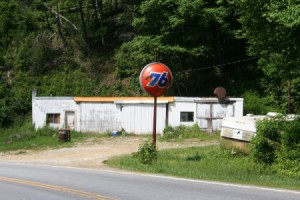 I have found myself in reduced circumstances pretty chronically for the past 5 years - probably more. I am sure that I share this fate with many people, but, in spite of knowing this, my predicament has seemed like a very private and shameful hell. At least it did, until I became real about it. More people than not live less-than-prosperously, whether because the economy did them in, or because they chose a less fruitful, if more emotionally fulfilling, path to life. I can count myself in this camp, since I decided to pursue art and creativity as a focal point of my attention for many years.
I do not believe that wealth and material abundance are the sine qua non to a good existence, and I don't believe that anyone, deep in their hearts, does either. But everybody pretty much chooses to buy into the b.s., and makes their life goal the acquisition of more, or the upholding of a certain elevated standard of living. By buying into the B.S., we perpetuate a cultural situation where we ignore and underplay all the multifaceted things that bring value to life - a value immeasurable with cash, and not easily exchanged. By underplaying the inherent value of certain things, choices, and opportunities due to their bad conversion in the commodities framework, we castrate our sense of personal destiny, and harbour feelings of shame and inferiority if we fail to rake it in. This in America approaches a cultural disease - which, according to some, translates to physical sickness as well.
Back to my circumstance: I have pursued creativity and personal interest above material acquisition, above having a job. Though I freelance and aggressively pursue financial opportunities (such as writing these essays and things), I spent 80% of my time in pursuits which bring no direct cash conversion, and am reasonably happy. This, summed to my failures in the self-promotional department, have led me to inhabit a place of poverty for many years. By choosing to not buy into the cultural disease, I see my situation as a challenge, and as an inevitable consequence of the life I have lived for many years, and of my actual values.
I have felt values emerge as a direct response to tough circumstances: I am thrifty, non-materialistic, and refuse to take anything at face value. I am ingenious, through choosing to implement solutions through materials and resources I may already have. I don't feel entitled to anything, and am generous when I have something to be generous with. I have learned to really crystallize my own morals, and prioritize my goals, since limited resources force such discipline. And, discipline-wise, I have learned to do without - a lot. Do you know how empowering it is to be just fine when not being able to buy something that to most people - and to yourself at one point - seemed indispensable to existence itself?
Most of all, I have compassion and open-mindedness towards all people and treat all folks equally, and I condemn the shallow hateful attitudes I see - even right here in Madison County NC - that most folk who consider themselves 'open-minded' employ, when confronted with someone 'less than'. This might not mean much to anyone save Jesus Christ, but it means a lot to me.
For anyone who's read this far, I invite you to view your circumstances - no matter how bleak or mediocre they seem - as a gift, and a classroom for important life lessons. And please try to view all of life in all its marvelous entirety, as opposed to through the tired-old one-dimensional prism of 'profit margin' or 'cash value'. You may be surprised as to what you find.