I grew up on a farm in the 40's and 50's. We were a family of 6; mom, dad, three brothers and me.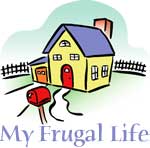 Although we were poor, we never went hungry due to the fact that my mother grew and preserved her own vegetables and fruits and we had our own chickens and beef.
As children, we spent many hours in the garden during the summer months weeding and tending the various crops. At the time, we all wished for a more comfortable life; one where you could just go to the grocery store and buy what you needed rather than spend hours growing, picking and preserving it. Now, as an adult in my late 60's, I can look back and appreciate what it took for my parents to provide for us.
Mom always was frugal. During canning season, all the peelings from produce that was canned was saved. She would put onion skins, tips of green beans, tops of celery, tomato skins, potato peelings and whatever else was on hand into a large pot. These remnants were simmered until she had a large amount of broth which she would strain and either can or freeze for soups and stews. We always had a large amount of broth on hand. Mom was very particular about how her canning looked on the shelves in the pantry. Anything that wasn't good enough to can went into the simmering broth pot.
Mom also had a tradition for using up leftovers. Usually on a Saturday she would go through the refrigerator and take out all the leftovers from the week, throw them in a pot (sometimes adding some of her special broth) and make a soup of all the stuff she found. She called it her "Exotic Soup". She would put a cloth tablecloth on the table, put out her best dishes and we would all sit around pretending we were eating soup that was made for kings and queens. This was served with fresh baked homemade bread and butter we churned ourselves.
The lessons I learned as a child stayed with me throughout my adult life. The saying, "Use it up, wear it out, make it do, or do without" was one that I grew up with and carried with me throughout my life. Mom and Dad remained frugal thought their entire life. When they were in their late 70's, they sold most of their farm land and finally had enough to live comfortably on. This didn't stop them from being frugal, my Mom always said, "The time to be frugal is when you have enough money." I can appreciate that now and although we have enough money to live comfortable, my husband and I chose to be frugal.
I love to can and take advantage of our local farm stand in the summer. This stand is known for only selling the freshest of produce. When the produce is a few days old, they offer it at a very reasonable cost. I've been able to purchase a bushel of corn, green beans, peppers, tomatoes for as little as $5.00. I either can or freeze this produce. During the winter months, we spend very little at the grocery store. I also shop for meat on sale. Our grocery store will sell meat at a drastically reduced price when the "SELL BY" date is about to expire that day or the next. I immediately freeze this for future use.
If I can pass on one tip to all, it would be this: Being frugal doesn't mean you don't have money to spend. Being frugal means you will have more to spend. It takes work and planning but the rewards are great. Don't be afraid to be frugal.
By Mary
Do you have a frugal story to share with the ThriftyFun community? Submit your essay here: https://www.thriftyfun.com/post_myfrugallife.ldml