May 30, 2009
0

found this helpful
Best Answer
I stopped using women shavers a long time ago. Since men have more course hair due to their beards in such I figured using a mens shaver/razor would work wonders and it does! I love the Gillette Infusion or the Mach 3 blade and 4 blade. Also, another trick I came across a long time ago is exfoliate your legs before shaving. I do this to my legs and underarms. I buy a scrubbing pad from the cosmetic isle and use those. I will run it up and down my leg and thighs in circular motion it not only helps take off the dead skin but helps the process of the hair removal a bit easier. At least it does for me. Hope some of this has helped. Oh and also ... I love using the shaving cream by Bath & Body Works by the line True Blue Spa called Shave the Day Silky Smooth Shave Cream...it works wonders!
~W|ckedD|am0nd

June 1, 2009
0

found this helpful
Best Answer
I invested in a wax pot. You will be surprised at how cheap it really is to wax at home. If you have the right equipment, it is easy. Sally's Beauty Supply has everything you need. Eventually you will have less hair grow and need to wax less!

May 28, 2009
0

found this helpful
I have the same problem and have had very good results with the 5-blade cartridges. There's just something about that extra blade or two that really makes a difference!

May 28, 2009
0

found this helpful
I use veet and then I shave my legs. I dont seem to have to shave as often.

May 30, 2009
0

found this helpful
You should try this product called Coochy shaving cream. Believe it or not I think it is what you use for shaving cream that makes a big difference.

(Guest)
Gold Post Medal for All Time! 846 Posts
May 30, 2009
0

found this helpful
Schick Intuition razor! It's a triple blade, you don't need shave cream, it easily swivels to evenly get all the hairs, you will never get nicked again and it's great for sensitive skin ;-) It also comes with a suction cup holder. Plus many drug stores often have coupons in the Sunday paper for the cartridge refills (at CVS you can double up with their specials and often get the cartridges for only a couple of dollars) and the cartridges seem to last forever :-)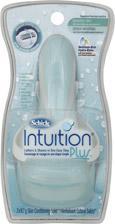 May 30, 2009
0

found this helpful
Razors aren't exactly thrifty, and neither is going to the salon to get it waxed. So just make your own wax at home! If anyone knows the ins and outs of hair removal, it's the Egyptians. Just take two cups of water, three cups of regular white sugar and two teaspoons of lemon juice (or half works for me - one cup of water, cup and a half of sugar and a tablespoon of lemon), dissolve it all together in a saucepan, and boil it to 260F.
Put it in a plastic and glass container and, when it cools, you're ready to go.
Clean and powder your legs and hands, take a glob of the stuff, smear it down in the directions your hair grows, and - rip! There ya go! It's a bit time-consuming, and sure it hurts, but it works like a charm. Just make sure the hair's grown out enough.
Reference: members.cox.net/.../rechalaw.htm

May 30, 2009
0

found this helpful
I know that a lot of people, for many years, have known about the epilady, hair removal thing. They are no longer in business. They expanded too fast & died, but there r others out there. I now have one of the newer ones. I remember more than 15 years ago, I used to work out at a gym & early in the morning, all of the women who had to work in the morning, use to congregate in the locker room, getting ready. There were a lot of us.
This time was just after Christmas & all these ladies were complaining that their husbands, boyfriends, got them an epilady & they hated it. They yelled that it hurt, bad. Well, I was friends with this one lady, who happen to see me using mine that day & wanted to know exactly how it felt & if it worked. She really didn't want to shave anymore, if at all possible. I had always had a bad time of shaving; cuts, scrapes, dry skin & it didn't feel good razoring off the top layer of skin. I had gotten the epilady at least a year before, probably longer. So i told her exactly what to expect and how you get used to it..
When I got mine, I did a little of my leg & it did hurt, but I really, really didn't want to shave anymore. So I said to myself, that I will give this thing a month. Each day I shaved as much of my legs as I could stand. After a few days, my legs were done. Well, when the hair grew back, I started over again, & guess what, it didn't hurt quite as bad & I could get my legs done faster, cause I was able to do more at a time.
The next time when I did it, it hurt even more & by the time I hit the month mark, it no longer hurt much at all. Everytime you do it, the hair roots get thinner & easier to pull out, that's what these things do, like waxing, and as the roots get thinner, the hair gets thinner & lighter in color. It doesn't take long to have hair that is like a child' hair.. Thin & soft. It didn't take long before it only tingled when I did it & relaxed me so much, I want to lay down & take a nap.
I have used this type of thing for over 20 years now, I think. I would never go back to the razor, ever. I told the woman, you have to give it a chance, cause if you've been shaving for years, those hairs are course & hard, hence the stubs when it's only been a short while since you shaved. This thing also slows down the growth of the hair. I think the one I have is the optima hair removal thing. I eventually used it on my pits, which when I started hurt so much. You just put your arm up high, stretch the skin & do it, it works just like the legs. My pits don't even show the hair anymore. You have to have clean skin, like after you are completely dry after a shower or bath. Don't use lotion or oil of any kind, if you want, till after you are don't. When the skin is clean, the thing glides over the skin. It is right up there with the microwave, as far as I'm concerned.

June 2, 2009
0

found this helpful
I have used Venus razor with men's shaving cream (it's cheaper) and it does great! The refills are not thrifty but I do get a deal on them at the local flea market.

Cricket
Bronze Post Medal for All Time! 205 Posts
June 2, 2009
0

found this helpful
I agree wiith WickedDiamond in that for some reason men's razors seem to work so much better than women's. I stopped wasting my money on women's razors too years ago. And now buy only men's.
Another thing I do that works great is (believe it or not!) 220 grit sandpaper! I get packs of the sanpaper and cut it into usable size pieces (also sharpens the scissors at the sime time!). I gently buff my legs with the sandpaper and it leaves them silky smooth. Another advantage to this is that the more you do it, the less often you'll have to do it, or shave. Shaving seems to make the hair grow back faster. Sanding seems to make it grow back slower. Reason? Who knows. All I know is it works!

June 24, 2009
0

found this helpful
I loved the epilady! I only wish I still had one. It was the BEST Christmas present from my ex (I suggested it of course)

April 5, 2010
0

found this helpful
Whatever you do don't use the Smooth Away, it only makes your "hair" smell really bad. I would recommend using the Venus Breeze with new 5 blades, I use that perfect results. If not, then shave hair away a little, if you get cut use a soap or something that will get into the burn and soften it up.