By scott E. (Guest Post)
September 3, 2008
1

found this helpful
Best Answer
It is good for them. Whole grains are good for us and them. If he likes them, good for him.
July 16, 2016
0

found this helpful
Can you feed raw oatmeal to dogs
September 3, 2008
1

found this helpful
Best Answer
Are you talking about porridge or actual oats that you feed horses? I think that some dogs like to eat porridge, although it is likely better to feed them dog food. Dogs need more vegetable matter than cats, but I think it would be easier to feed them their own food.
I don't think dogs could digest actual oats, as they do not have the teeth necessary to grind it up. I would say that raw oatmeal would also be difficult for them to digest. They don't have molars like we do to chew up granola!
By Leonie Edge (Guest Post)
September 4, 2008
2

found this helpful
Best Answer
Juliette de Bairacli Levy in The Herbal Handbook for the Dog and Cat, recommends oats, amongst other non-normal dog foods. I think her book is wonderful and my dogs (and cats) are living proof. Marvelously healthy, with a very rare visit to the vet ie not one in years!
September 19, 2008
1

found this helpful
Best Answer
I like the 1/3 rule of thumb below.
Personally, I would Not feed my dog raw oats and the reason for this is that they will swell with the liquid of the bile in their stomach.
It is easy to cook and would be much better.
Rice is a good alternative also.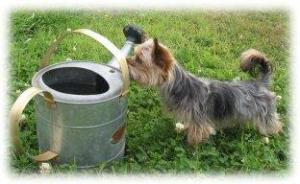 January 18, 2016
1

found this helpful
Best Answer
my kelpie loves rolled oats. raw with milk. he also spends his days rounding up sheep. He is very fit and healthy. He has two meals a day. morning chicken with rolled oats and linseed meal and grated raw vegetables like carrots. tea rolled oats with milk. He also gets raw chuck bones. Personally I would not feed any of my dogs with a prepared tinned food as I don't think it is worth the money.
April 10, 2017
1

found this helpful
Best Answer
I did a little research and most sites suggest cooking the oats first, to add moisture and prevent dehydration. I don't think there would be too much concern as long as it is mixed with another food that is relatively moist.
But I wouldn't feed them straight raw oats, not that most dogs would be interested in that.
By Me (Guest Post)
September 3, 2008
0

found this helpful
Why do you want your dog to eat them? I wouldn't feed them to my dogs in any way. There are so many good tasting (to them) foods you can give them.
April 8, 2017
0

found this helpful
I was wondering this same thing. I want to give my dogs peanut butter oatmeal balls, and I make them with raw oatmeal, so I was wondering if it's safe.
August 9, 2017
0

found this helpful
I made some homemade treats with raw oats in them it also had canned pumpkin and peanut butter mixed in with them and rolled them in balls and put them in the fridge he loves them i don't over feed him of course but every once in a while he gets one but you know he wants one every time someone opens the fridge!!
January 28, 2018
0

found this helpful
I had to start feeding my 15-year-old dog can food and she was having very lose stools so I put about a tablespoon of the raw oats in with the liquid for more fiber Then I read raw oats were not good for dogs I wanted to know why
By dotann (Guest Post)
September 4, 2008
0

found this helpful
Hi. I asked this question because my dog has been put on a low fat diet and someone suggested I give her oats (porridge) instead of dog biscuits because it is low fat.
By Oberhund (Guest Post)
September 5, 2008
0

found this helpful
Actually, commercial dog food is one of the worst things you can feed your dog. (Canned food is slightly better, since it's a little less "cooked" than dry.) Commercial dog food is over processed, and full of suspicious ingredients (like diseased animals, dead dogs and cats, junk from the floors, etc.) It's much healthier to feed them a diet of fresh, human grade foods. Just make sure to balance out the protein, starches, fats, and fruit/veggies. A good rule of thumb is the rule of thirds. 1/3 protein, 1/3 starch, 1/3 veggies/fruit. You can add a Tbsp of healthy oils like cod liver.
Anyway, just make sure all the ingredients are dog safe. Cooked oatmeal is easier for your dog to digest, although he won't digest all of it. There are lots of great books out there full of recipes and advice about feeding your dog. There are probably lots of great webstites, too. And, you can even buy raw dog food at high end pet stores.
For those who think dog food is the best choice, consider this: what did people feed their dogs before commercial dog food, and the concept that we should only feed our dogs dog food was an advertising campaign by dog food companies.
February 13, 2019
0

found this helpful
I cook fresh food for dinner every day for my dog. He is so picky and will not eat ANY kind of dog food. I give a meat (mostly he likes chicken or ground lamb)
with a veggie. Been doing this for years now. So far all is well