Avoiding the Cold and Flu
You may ask what this article has to do with finances. Consider the amount of money spent in buying over the counter relief products, money spent at the doctors office, fuel spent going to the doctor and pharmacy, and any loss wages due to being sick in bed, and you will see that the cold or flu can take a bite out of your budget. Many people don't properly fund their medical category in their budget and hope for the best.
We have all heard the basic common sense ways to avoid a cold, "wash your hands", "cover your mouth when you sneeze", and, if your mom was like my mom, "don't go outside with wet hair", although some medical experts argue against that one. However, there are steps we can take to avoid getting the common cold and flu.
Wash your hands. Mom was right! Wash before you eat, after the restroom, after you enter "hot spots" such as hospitals, daycare centers, doctor offices, pharmacies, using a public phone, public bathroom, touching money, using a grocery cart. I am sure you can think of several more places that you come into contact with germs. If you can't wash your hands, carry a small bottle of sanitizer with you to rub on your hands.
Wipe down common use contact areas such as door knobs, telephone receivers, faucets, shared keyboards, remote controls, steering wheels (if you have a co-driver), mailbox handle. You don't need to carry around a bucket of bleach water, you can simply use a sanitizing wipe.
Get plenty of sleep. Your body requires proper rest for all your systems to operate at their best,
Eat well. What you eat is fuel for your body. Failure to eat properly will cause your immune system to suffer, You need a balanced diet including fruits and vegetables, protein (meats) and grains. Notice this diet does not include chips, soda, or other junk foods. Feed your body junk food, and it will start to act like junk. Some studies indicate vitamin C supplements may also help.
Avoid stress when you can. Stress can upset the balance of one's body. This in turn can cause foods to not digest properly and for the sleep cycle to be interrupted.
Get exercise. I am not talking about the total body makeover. I am talking about walking to the mailbox or around the block. If you are new to exercise, see your physician before starting if it is going to consist of much more than walking.
Get plenty of fresh air. Go outside several times a day. Walk on your breaks from work, go out to get the mail or to just stand on the porch for a few minutes several times a day. During the winter if you can not get out, open a window for a few minutes and let the air circulate.
Change and clean areas where germs collect. One of the dirtiest places for germs to collect and breed is in your kitchen. You thought I was going to say bathroom, didn't you? Wash your dishrags and sponges daily. Regular laundry detergent does not kill cold germs. The best way to clean your kitchen sponges is to zap them in the microwave for a minute after laundering. The heat will kill the germs.

Change your toothbrush often, and after using pour a small amount of mouthwash or vinegar over it to kill germs. Baby toys may need be be wiped down, as well as the teething bar on their crib.

While washing your dishes, add a small amount of bleach or vinegar to the water to disinfect. Change your furnace filters. Germs like to collect in them also. Many sources and TV ads tell you to use antibacterial soaps. However, I have heard several studies on TV and radio that are now saying some germs are becoming resistant to such soaps.

Avoid your exposure to others when you are sick. Not only for the sake of others, but for yourself. Your immune system is already weak, so you are at an increase to pick up something else.
Avoid being around those persons you know are sick if at all possible. If you must be around them, use good handwashing and keep your contact to the bare minimum that you can.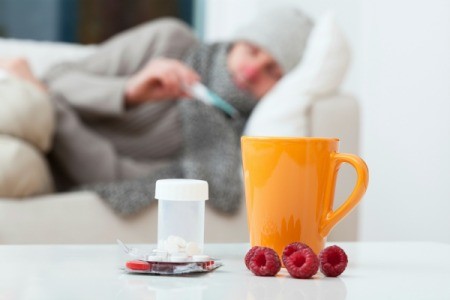 Add your voice! Click below to comment. ThriftyFun is powered by your wisdom!
Add your voice! Click below to comment. ThriftyFun is powered by your wisdom!
Related Content
In This Guide
Categories
Guides
More
Categories