I pass the buck on expensive laundry detergent, and use my favorite dish washing liquid that I do hand washing in anyway.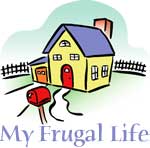 I use the extra money from not buying the laundry detergent and pass the buck over to fabric softener.
I make room spray out of it by mixing about two thirds water and 1/3 fabric softener into a spray bottle. I use this all the time. I don't pour into the wash or anything, but I do spray the clothes with it before I wash them, and it is great for any kind of refresher.
I pass the buck on napkins and buy fabric remnants which have replaced paper towels and I have started using the remnants for everything from covering little one dollar journals and giving them as gifts, to using them for dozens of other things around the house saving money. Fabric remnants may be my greatest frugal discovery this year. I find myself amazed at the beauty of them as I cut them into usable squares, and then cut along the sides into "V" shapes, because I don't have pinking shears and I have the time to cut them myself.
We have recently decided to "Pass the buck" on bar soap for the bathroom. It is just not working out, with the number of times we have seen bar soap melt at the bottom of the tub, all mushy and useless, and I know I cannot teach this out of them. The last time I froze a large pack or Irish Spring soap, it disappeared, somewhere in the house and I haven't seen it since.
So we are, at least for now, buying the liquid body/hair wash in one, and so far, passing the buck on the soap has been working out great. We bought the kind that has a strong deodorant smell, where you squeeze out a small amount and the whole bathroom smells like perfume or cologne. It is one of the deodorant soap brands like Dial or Safeguard, I forget which. I bought it for two dollars and some change at the Family Dollar. We love it! They can drop it all they want in the bottom of the tub and no one cares and if they don't care to sit on it, it will eventually be picked up sometime. You have to have a sense of humor with kids - LOL.
When we go to the store, usually the Dollar General, we see that the two liter sodas are cheaper than the already cold small bottles. That saves a lot right there.
By the time I am through passing the buck on the more useless things and making my own things, I can use the money saved to either sit in the bank or else buy other things that save money in the long run.
I like going to the dollar store with this saved money and storing up on things I know I will use, like candles, etc., for gifts and all those unexpected birthdays and also for little cheap rewards for the kids to hold up before them to earn as a reward. I may even make my own gift bags from remnants this year. It is a never-ending quest for joy and meaning in life. Well at least it is fun if it is not that!
Blessings and have fun Passing the Buck this year!
By Robyn Fed from Hampton, TN
Do you have a frugal story to share with the ThriftyFun community? Submit your essay here: http://www.thriftyfun.com/post_myfrugallife.ldml