Cut those expenses in half, redirect your disposable income, decrease your stress, change your spending habits, live a thrifty fun life well below your means and budget now to be financially free later.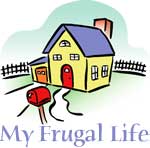 Recently I have been trading thrifty and fun ideas with many families that are struggling to regain control of their money and allow it to work for them instead of always working for it. Most of these ideas, we learned in school. But when applied to our grown-up lives, they can and will make a difference.
Try to remember why it was, and is, so nice to go visit good ol' "Grandma"; worn comfortable furniture, fresh local produce, homemade meals, real tea or coffee, photo albums, time to read and plenty books to choose from, family art on the walls, comfy quilts/afghans, real sugar, places to hike, sled riding, ice skating, bible studies, mushroom hunting, wood to whittle, picking wild flowers, clipping coupons, picnics to enjoy, kites to fly, people to chat with, board or card games to play, crafts to make, cakes to bake, photos to take, leaves to rake, habits to break, birds to watch, and not to forget, those local events; fairs, cook outs, fishing holes, quilting bees, church potlucks, softball, pool parties, campfires, and family reunions. So here is a large list of things that each of us could/can change in order to be more like the place we remember and save lots of money in the process.
Do
Put $ (10%) in Savings every pay period.
Donate to charitable causes;they are tax deductible.
Make cakes. It's always nicer to get a home cake than a store bought one anyway.
Rent books, music and movies at your local library for FREE.
Bake French bread pizza instead of that expensive delivery stuff.
Buy used furniture, never pay retail.
Purchase clothing at thrift stores, yard sales, FREE clothing give-a-ways, or consignment shops.
Trade clothes with other families of young children when your family out grow 'em.
Support your local farmer, food market, or co-op for fresh produce. It';s cheaper and you're helping out a neighbor.
Make meals at home, convenience foods might be quicker but they quickly zap the $ from your pocket as well.
Check out Craigs list for FREE local items waiting to just be picked up.
There are plenty of recipe books and web sites with quick 'n easy crock pot meals for working parents too.
Use tea bags instead of the instant mixes, saves $.
Pay a local seamstress to use your fabric or hers and make matching Mother/Daughter outfits or Father/Son suits. They will be one of a kind and you can keep from paying high prices for high fashion at the Mall.
Brew your own coffee, quit paying steep prices at Starbucks and keep your hard earned bucks.
Harvest fruits and veggies when they are ripe. Gather up the kids, some buckets and pick up all you can it's FREE. Peel and freeze 'em for fresh-like pies and meals all winter long.
Always clip coupons, buy drinks by the case, reuse sport bottles, wash out zip bags, and stock up on great deals like 2/$1.00 canned veggies.
Take a hike, it's FREE, it's fun, and in the Spring, most State forests allows morel hunting. FREE food!
Put photos in albums or scrapbooks and avoid those costly photo boxes.
Frame artwork versus buying over priced items at a gallery, encourage family members of all ages to create. FREE ART
Buy books at yard sales and stock your shelves for those rainy days and forgo the long lines and high book costs in town.
Sort through the overcluttered attic, use up all that yarn by crocheting cozy afghans, or gifts to give i.e.; scarves, hats, blankets. Be sure to use up your fabric scraps and make a family heirloom quilt. Use time wisely, have everyone decorate one square for the quilt. These tips sure beat the lofty prices on-line. FREE gifts to give, who can pass up that idea?
Replace high price sugar substitutes with the real thing; just use less of it (unless you are diabetic).
Spend quality time hiking, swimming, sledding, skating, fishing, reading, whittling, walking, picking wildflowers, fly a kite, bird watch, take pictures, go on a picnic, rake leaves, shovel snow, or cut wood for a camp fire. All of these ideas are FREE on private property, some you will need a license for, either way they are good for the body or soul and you save money by not going to a gym, just utilize Mother Nature!
Stay home and play cards or board games and keep your money in your pocket versus paying for a movie that you won't like or you'll forget all about.
Attend all local FREE fairs, festivals and events. Just be sure to pack a picnic to stay on budget. Keep active in your community by going FREE library movies nights, FREE music events, FREE workshops, FREE crafts sessions, FREE child activities, FREE computer classes at the library, FREE programs at the park, FREE school carnivals, and FREE block parties.
Pay extra than the minimum on your bills and credit cards so that you can afford to be free from debt and begin to save for that family vacation you've been unable to pay for because you've been too busy buying convenience foods, high priced drinks, over rated movie tickets, paying late fees on costly rental movies, purchasing delivered pizzas, retail items, and name brands! So stop that madness, start living a thrifty fun life and save your way to financial freedom.
Staci from Amanda, OH
Do you have a frugal story to share with the ThriftyFun community? Submit your essay here: http://www.thriftyfun.com/post_myfrugallife.ldml