My name is Misti and I'm 27 years old. I live with my husband and 7 year old son. I started living a frugal life after I realized one day that I've been working for 10 years and I only have $200 in savings to show for it.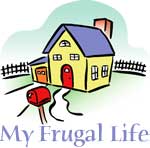 I mean come on, shouldn't a 27 year old have more to show for all the work I've done? So I started 2007 off with a bang. My New Year's resolution was to cut expenses as much as possible and save, save, save.
The first step I did was make a budget. I went through all my spending and bills and cut out tons of unnecessary expenses. I went through my entire checking account statement and called everyone that was making automatic debits from my account. I didn't even realize most of them that were still doing it. I paid off my credit card and put it away for real emergencies only!
Then I looked up money savings tips and frugal ideas online and bought cheap books from Amazon on the subjects. I thought a couple bucks on these books would be ok since I knew I would learn a lifetime of information. I've learned how to organize my stuff using free stuff around the house, how to shop garage sales for everything I need, how to save on groceries, how to cut utility costs, and lots of other little tips that have added up to big savings. We now make our own pizzas at home which saves us $20 a week and joined the Blockbuster DVD program that mails DVD's. I figured we needed one entertainment luxury while still being frugal and this is the one we choose and it's still cheap at only $17 a month. We have rented all kinds of movies well more then the cost.
The challenges that I do face is that sometimes I think I'm being so frugal that I can be lazy and spend today. I end up spending on stupid stuff that I haven't spent in months. I just try to stay focused. One of my #1 rules is to not spend one dime on Friday's. That way, I go into the weekend already saving money. (My biggest spending weakness is the weekends).
Life has become so much simpler. I don't have to worry about paying bills anymore. I always have the money ready and still have leftovers. My husband and I have a much better relationship as the result of being frugal because we feel like we are becoming financially secure. And we don't argue about the money each other spends anymore because we only spend out of necessity. If we do splurge, we really deserve it. I hope this story inspires others to be frugal everyday!
Misti from Burbank, CA
Do you have a frugal story to share with the ThriftyFun community? Submit your essay here: http://www.thriftyfun.com/post_myfrugallife.ldml