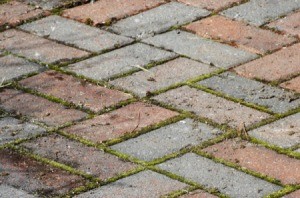 For those that have cobblestone or brick pathways! Nasty spore growing weeds will bust through cement. Living in the lower Keys of South FL, I've dealt with some very destructive weather. As of now ,I have been pounding sand in between my rebuilt brick pathway. Those nasty weeds that spread my bricks and sea shell garden get a good dose of CHEAP SALT! After a couple days, they pull out easy! Saves on the finger knuckles and expensive weed killer. Also, I heard that cheap WHITE VINEGAR can help rid those weeds. Do not apply any salt next to your living gardening area.
By Cindy from Key West, FL
Read More

Comments

Apart from using a sharp knife, does anyone have any tips for removing weeds growing between paving slabs without resorting to harsh, environmentally-unfriendly chemicals?
By Sally Guyer from Cambridge, UK
Answers

April 17, 2009
1

found this helpful
Best Answer
I've been told that you can spray vodka on those weeds and they will die.

April 19, 2009
4

found this helpful
Best Answer
My favorite is a gardener's flame weeder. It's a long wand attached to a propane tank, and you flame the weeds until their juices boil and they look bright green. Kills anything small, and like once a month you would re-treat anything with a bigger root. I like it because it's just so satisfying. No need to burn them to ash.

April 19, 2009
4

found this helpful
Best Answer
Buy a gallon of vinegar, remove one cup and add 1 cup of salt, shake to mix then add the cup of vinegar back to the jug. Spray on the cracks in the pavers. Be careful because it will kill anything it touches.

April 19, 2009
7

found this helpful
Best Answer
Boil water in the kettle and pour it over the weeds. Works every time!

April 20, 2009
3

found this helpful
Best Answer
Pour salt on the weeds. I usually get cheap salt for projects like this.
Answer

this Question

How do I kill lichen growing in between my patio block paving?
Answers

Judy
Gold Post Medal for All Time! 677 Posts
September 2, 2018
1

found this helpful
Boiling water is cheap and effective

Pghgirl40
Bronze Feedback Medal for All Time! 196 Feedbacks
September 3, 2018
1

found this helpful
A good pressure washing should get rid if them. Aim the stream to get them to lift and separate from the paver. DO NOT USE BLEACH...is doesn't work and can cause harm to the area around the pavers.
Prevention is the harder part as they love moisture. Keeping leave and plant debris off the area helps...but direct sun to the area is the best prevention, but not always feasible.

September 3, 2018
0

found this helpful
I am guessing this might be moss, not lichen. Lichen is the smallest plant growth that we can see, and doesn't "lift or separate" as mentioned. But googling both will give you photos and advice to remove them.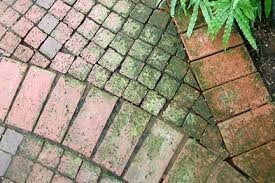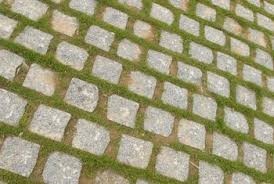 suz1230
Silver Feedback Medal for All Time! 451 Feedbacks
September 4, 2018
0

found this helpful
Have you tried vinegar? Mix 2 parts vinegar with 1 part water, and spray, then leave on. It may need a couple of applications.
Then use a stiff brush, or power hose. Afterwards, you'll probably need to reapply now and then because of new spores that naturally blow in the wind, as they'll settle in where the environment is favorable and try to take hold again.
It's just something you'll have to keep up with to prevent future growths.

September 5, 2018
1

found this helpful
You do not say how much you are talking about so the scope of your problem will determine how large a container of solution you will need to use.
I would just keep a spray bottle filled with white vinegar and spray it (hot sun helps vinegar work faster) occasionally. This will kill it and how unsightly the dead looks will determine if you have to do anything about removing it. You can take a good broom and sweep some of the dead away and gradually remove all of it.
September 6, 2018
0

found this helpful
Thanks very much for all your replys. I'm going to use the vinegar solution I think. Thanks again everyone.
Answer

this Question