SL Edens
Bronze Feedback Medal for All Time! 139 Feedbacks
September 4, 2007
0

found this helpful
Try this, Breza: After you shampoo and condition your hair, pull all of your hair up to the top of your head and hold it there with one hand. Using the other hand, start at the nape of the neck (the back), slowly pull a rubber brush through a little hair at a time going across from one side to the other. Then go up and do the same thing with a bit more hair until you've gone all the way to the top of your head. You should have very few tangles this way...I learned this in beauty school years and years ago and it's always worked for me. I hope this helps.

September 4, 2007
0

found this helpful
Biolage (very expensive) conditioner or L'oreal Vive Pro are the only two things that keep the tangles out for me

September 4, 2007
0

found this helpful
Brushes are bad for hair.
Use a wide tooth comb and comb from the bottom of the strands up.

September 5, 2007
0

found this helpful
My momma told me never to brush it when wet. So I carefully comb it from the bottom up, as mentioned above, and if I come to a snag, I untangle it with my fingers, trying hard not to break even one hair. My girlfriend just violently rips her tangles in half, I trust that would not be what you do. I use a product called Frizz-Ease Secret Weapon, drugstore, to make it more combable first. Hope this helps.

September 5, 2007
0

found this helpful
What kind of conditioner are you using? I use Pantene Pro-V. I have very thick hair that used to tangle but if you pump the conditioner in your hand, and squeeze it all over your head and into your hair, leaving it on for a few minutes, then rinse it under the shower, you should have very smooth hair.
I have a brush with plastic bristles, about $1.00 from Goody in the drug store. You could comb through it as you're rinsing the conditioner out and you should be fine.

September 5, 2007
0

found this helpful
If you towel dry, do not rub briskly, that will cause tangling. Wrap the towel around your head, not too tightly and SQUEEZE water gently from your hair. I find infusium leave-in conditioner the best myself.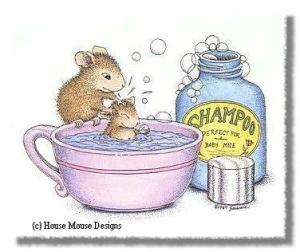 By Jo (Guest Post)
September 6, 2007
0

found this helpful
I personally use a kids detangling spray. I used to get lots of tangles in my hair after washing and whilst I find the best solution is to brush it straight after showering I used to end up attacking it!
Kids sprays aren't expensive and available almost anywhere (try the discount place - that's where I got mine from). I brush the bits with no tangles and then just spray the tangled bits and slowly and gently brush out.
Makes my slightly wavy hair straighter to!
Jo
(UK)
By Sandy in Norwalk, CA (Guest Post)
September 6, 2007
0

found this helpful
I have frizzy and curly hair. The only thing that works wonders for me is a hair product line by Matrix called Slick Line. I use the shampoo, conditioner and leave in conditioner. They are fantastic. This stuff is so good that you notice the difference when you are rinsing out the conditioner in the shower.
By Patti (Guest Post)
September 9, 2007
0

found this helpful
Never brush hair when wet. BRUSH hair when dry, COMB hair when wet. (my mom was a hairdresser).
I have extremely thick hair, as does my daughter. She gets massive tangles. After shampooing, use conditioner but don't rinse the conditioner out yet. The tangles come out easily by leaving the conditioner in(a lot of it), and combing through while your hair is covered in conditioner (bring a comb into the shower to comb through after apply conditioner).
Then, once all the tangles are gone, rinse the conditioner out. Comb again while your hair is still wet, and voila, no nasty tangles.
By kat (Guest Post)
September 9, 2007
0

found this helpful
Get your hair trimmed regularly, split ends can make your hair tangly.
By Birthaleen (Guest Post)
September 14, 2007
0

found this helpful
A trick a friend showed me!! Start combing hair from the ends then a little at a time start a little higher as you comb until you reach your roots this way you remove any chance of the hair gathering in knots at the ends.

September 18, 2007
0

found this helpful
I have very thick hair and no matter what length
it tangles easily. I use generic product .
The product is Johnson&Johnson's No More Tears.
Or fill a spray bottle with some conditionor and water
and spray onto hair to comb out tangles.
Good Luck.
By TRISHA (Guest Post)
October 7, 2007
0

found this helpful
If the conditioner doesn't work, ur using the wrong kind, u use the kind of shampoo for ur hair and the conditioner from ur hair,do u have a walmart close by,look on the containers, they have which kind of hair, for long hair, thin hair, and then look for the conditioner for ur type of hair. Ask one of the workers in walmart for there help, they should help u there if u need it
By DIA (Guest Post)
March 30, 2008
0

found this helpful
Well I am a mix of Indian, black, and Caucasian. My hair is very beautiful and grows really long. Its usually very silky at the roots until the tips it gets frizzy. Native American hair is long and silky, African American coarse, Caucasian thin and straight. Being all these things it likes to break a lot. After I shampoo I part my hair in small sections. Comb through the small piece (with a wide tooth comb).
I saturate every piece with infusium23 then comb it helps a lot. I also like organics leave in mayo (very nice product) also olive oil liquid for my scalp. I've also heard using witch hazel on your scalp can help it grow so you might have less kinks. Just put it in a spray bottle or use a q-tip to apply to scalp.
By Abby (Guest Post)
November 11, 2008
0

found this helpful
My hair is way thick and dry and knotted all up. I tried all of the products out there! I found that pantene pro v conditioner silky n smooth works good and then leave your hair damp. there is a product called Pink Lotion (found in the section for African American hair products) when you first start out on your knots use a generous amount. Start at the bottom of your hair and work your way up. after that use it daily in a small portion. It also sucks out curls, helps stop breakage, conditions dry hair and scalps, and controls split ends.